Monday January 23, 2023 is Maternal Health Awareness Day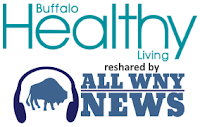 Maternal Health Awareness Day is presented by the American College of Obstetricians and Gynecologists (ACOG). This year's theme is Know Why. ACOG's efforts center around raising awareness about the underlying causes of maternal deaths and emphasizing the critical role that data plays in identifying root causes and creating solutions to eliminate poor maternal health outcomes. Click here to learn more.
Recently, Univera Healthcare awarded three-year grants to Gerard Place and Jericho Road Community Health Center in Buffalo to address severe maternal morbidity (SMM) and related health equity issues in Western New York.
The U.S. Centers for Disease Control and Prevention defines SMM as "unexpected outcomes of labor and delivery that result in significant short- or long-term consequences to a woman's health." As many as 60,000 Americans each year experience maternal morbidity, including 650 to 750 deaths, according to The Commonwealth Fund. They note these numbers are increasing, and many instances of SMM could have been avoided with improved maternal care before, during, and after childbirth. Data from the National Center for Health Statistics shows the maternal morbidity rate for non-Hispanic blacks is 2.9 times the rate for non-Hispanic whites.
"We have an opportunity and a responsibility to confront the nation's crisis in maternal health disparities," says Gina Cuyler, MD, Univera Healthcare vice president of health equity and community investments. "With this grant funding, Gerard Place and Jericho Road Community Health Center will have greater capabilities to support safe pregnancies and childbirth, eliminate pregnancy-related health disparities, and improve health outcomes for new mothers and babies."
Gerard Place will use the funding for education, advocacy, mentoring, and clinical tracking of low-income moms by nurse educators. Jericho Road Community Health Center will use the funding for home visiting support services for refugee and low-income, at-risk pregnant women.