Congressman Brian Higgins (NY-26), who serves as co-chair of the Canada-US Interparliamentary Group and the Congressional Northern Border Caucus, was encouraged to see continued dialogue between President Biden and Prime Minister Trudeau during this week's North American Summit but says more work is necessary for coordination to better reflect the strong bonds our people and countries share. Higgins stressed the point in remarks on the floor of the House of Representatives.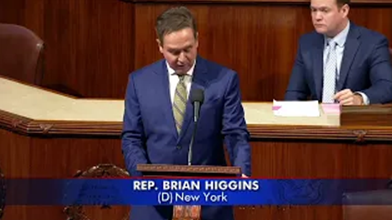 Video: https://youtu.be/GAKszQGWMk4
Congressman Higgins said, "The United States and Canada enjoy a shared border and shared values. We are friends and trading partners. Unfortunately, in recent years, we've seen a layering of restrictions that hinder binational movement. This not only makes it hard to cross a bridge, it hinders binational cooperation, it separates us from one another, it stifles trade, and diminishes life quality. Confusion, hassles, and delays prevent travel and inhibits travel plans. As President Biden and Prime Minister Justin Trudeau meet today to discuss our future, I urge them to leverage our strengths, to craft solutions that make it easier for us to connect between two countries, fostering better connections, a better economy, and a better life quality."
Higgins has pushed for a resolution to address a backlog of applicants to the NEXUS trusted traveler program and on December 1, 2022 announced a new pilot project at the Peace Bridge in Buffalo, New York.
Following the bilateral meeting, U.S. Department of Homeland Security and Canada Border Services Agency released a joint statement on NEXUS indicating progress reducing the backlog under the pilot agreements at the Peace Bridge and other crossings. The agencies reported, "These efforts have been effective. Since October 1, 2022, CBP and CBSA have completed a record-breaking 203,000 NEXUS enrollments and reduced the net backlog of applicants by 100,000."
The bilateral meeting between President Biden and Prime Minister Trudeau included high-level staff from each Administration including but not limited to the US Secretaries of State, Commerce, and Homeland Security as well as the Canadian Ministers of Foreign Affairs, Public Safety, and International Trade, Export Promotion, Small Business and Economic Development. Leaders discussed issues ranging from economic opportunity to global security.
Following the meeting, President Biden announced plans to visit Canada in March.
---

All WNY is made possible thanks to coffee and sleep deprivation.
Buy us a cup? (of coffee, we can handle the sleep deprivation ourselves)