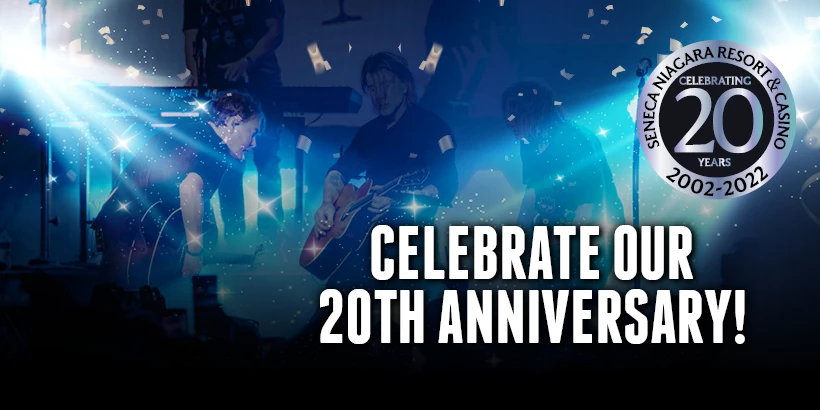 NIAGARA FALLS – Twenty years after setting the standard for entertainment and excitement, Seneca Niagara Resort & Casino is ready to celebrate in a big way.
The region's premier entertainment resort destination announced that it will send out 2022 in grand fashion with a free concert by The Goo Goo Dolls on Saturday, December 31 at 11pm on the stage at STIR feature bar, located on the west concourse gaming floor. A select number of VIP packages are also available.
"Don't make any other plans for New Year's Eve, because you'll want to be at Seneca Niagara," said Kevin Nephew, Seneca Gaming Corporation President & CEO. "This is going to be a celebration like no other."
The Goo Goo Dolls are Western New York music royalty. Formed in Buffalo by lead singer John Rzeznik and bassist Robby Takac in 1986, the band has soared to international superstardom over the past four decades. Their new album, "Chaos in Bloom," delivers a sound like a band more confident than ever in their sound, yet constantly looking for fresh ways to get their story across. The album is full of biting sarcasm, stadium-ready choruses, and spear-sharp songwriting, as evidenced in tracks like "Yeah, I Like You," "Let The Sun," and "Loving Life."
Throughout their decades-long journey, Goo Goo Dolls have connected to millions of fans and quietly broken records, delivering such hits as "Name," "Slide," "Broadway," "Black Balloon," "Let Love In," "Better Days," "Iris," and many more. Goo Goo Dolls have had a total of 16 Number One and Top Ten singles, have sold more than 15 million records worldwide, and have received four Grammy Award nominations. The band holds the all-time radio record for Most Hot AC Top 10 Singles.
Seneca Niagara is offering two limited VIP packages to make the celebration even more special. The STIR Ticket Package, available for $500, includes two tickets to gain access to STIR, two free drinks per person, champagne toast at midnight, and party favors. The West Mezzanine Ticket Package, available for $250, includes two tickets to gain access to the West Mezzanine, overlooking the STIR stage, two free drinks per person, champagne toast at midnight, and party favors. Ticket packages will be available for sale starting Friday, November 11 at Noon. All ticket purchasers and attendees must be at least 21 years old.
The free performance will be able to be seen and enjoyed from anywhere on the gaming floor in the casino's west concourse, and tickets are not required. Since the performance stage is located on the gaming floor, all individuals must be at least 21 years old to enter.
With the rush and excitement of the holiday and a free performance by one of music's biggest bands, Seneca Niagara is expected to be busy, and attendees are encouraged to arrive early.
The free performance by Goo Goo Dolls is the highlight of the evening, as Seneca Niagara Resort & Casino celebrates its 20-year anniversary. The property opened its doors on December 31, 2002, following a dramatic 100-day, $100 million transformation of the former Niagara Falls Convention & Civic Center. Crowds of excited people lined up outside the doors to experience the thrill of world-class gaming excitement for the first time in Western New York.
"New Year's Eve is always a special night for us, and this year will be huge," Nephew said. "People who were here the day we opened remember what it was like and where they were when Seneca Gaming Corporation and the Seneca Nation ushered in a new era of growth and excitement here in Niagara Falls. People are going to remember this year's celebration for years to come just as clearly."
TO PURCHASE TICKETS for Seneca Resorts & Casinos Shows: Seneca Resorts & Casinos uses all paperless ticketing for all events at all of its properties. Ticket packages for New Year's Eve may be purchased online at SenecaNiagaraCasino.com, SenecaAlleganyCasino.com or ticketmaster.com. A secure link, sent by either e-mail or text, allows guests to save tickets to their phone or mobile device.
---

All WNY is made possible thanks to coffee and sleep deprivation.
We appreciate your readership. We like money, too.