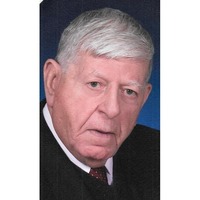 Dr. Elias S. Saba, 94, of Wheatfield, NY, passed away peacefully on Thursday, June 9, 2022, at his home. Born in Lydda, Palestine, he was the son of the late Simaan and Marette Saba; and the beloved husband for 60 years of the late Camelia (Hawa) Saba.
Elias's passion for education brought him to Buffalo, NY in 1977 to pursue his PhD in Math Education at the University of Buffalo, where he later became the Director of the Learning Center, a position that he took great pride in. Prior to moving to Buffalo, Elias shared his knowledge and gift of teaching with other educators at the Arab Academic College for Education in Haifa.
Elias was a proud local businessman, and previously owned the Sands Motel, Americana Motor Inn, the Coachman Inn, and a tour company in Niagara Falls, NY. Elias also served as the President of the Route 62 Hotel Owner's Association for several years and was heavily involved with the Niagara Falls Convention and Visitor Bureau to promote the tourism industry in Niagara Falls. Elias was also a longtime and devoted member of the Saint George Antiochian Orthodox Church, as well as the Order of St. Ignatius of Antioch.
With all of Elias's successes in life, he was most proud of his family, especially his grandchildren. Elias centered his life around his loving family and enjoyed relating stories from his journeys and connecting family and friends he gained along the way, especially if they shared the "Saba" family name.
Elias Saba is survived by his children, Mona (Wael "George") Bawab, Simon (Elsie) Saba and Rana Saba; his grandchildren, Reema (George) Raya, Nadeen (Gino) Buzzelli, Elias and Nickolas Saba, Joey and Alex Elhage, and Nicholas; his great-granddaughter, Alina; three siblings, Adeeb (Wadiaa) Saba, Janet (late Daoud) Saba and George (Sumaia) Saba; as well as many nieces, nephews and cousins. In addition to his wife and parents, Elias was predeceased by five siblings, Qustandi (late Georgette) Saba, Georgette (late Jalil) Tadros, Arkad (late Edmond) Tadros, Raji (Vera) Saba and Johnny Saba.
Visitation will be on Monday, June 13 from 5 – 8 PM at St. George Antiochian Orthodox Church, 1073 Saunders Settlement Road, Niagara Falls, NY, where funeral services will be held on Tuesday at 10:00 AM. Interment will follow in Riverdale Cemetery, Lewiston, NY. Memorial offerings may be made to St. George Antiochian Orthodox Church Arrangements by M.J. Colucci & Son Niagara Funeral Chapel.
---

All WNY is made possible thanks to coffee and sleep deprivation.
We appreciate your readership. We like money, too.