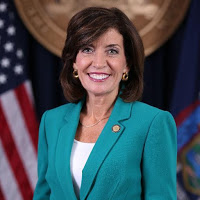 New York State Governor Kathy Hochul announced this afternoon that the statewide mask mandate for public school children will be retired effective Wednesday, March 2.
"Our top priority has always been keeping kids in school and making sure our classrooms are safe," Hochul said via Twitter following her public address. "Now, with COVID cases declining by 98% since the Omicron peak and updated @CDCgov guidance in place, we will lift the statewide school mask requirement this coming Wednesday."
While the state will no longer mandate masks in schools, counties and individual school districts have the option of imposing their own requirements.
Masks will still be required in certain settings, like healthcare facilities and public transportation.
---

All WNY is made possible thanks to coffee and sleep deprivation.
Buy us a cup? (of coffee, we can handle the sleep deprivation ourselves)