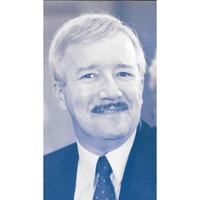 George Higgins, 77, of Niagara Falls, NY, passed away peacefully on Monday, February 14, 2022 at his residence. Born in Tupper Lake, NY, he was the son of the late Emmitt and Mary (Lavasser) Higgins.
George moved to Niagara Falls as a young child with his family and graduated from the former LaSalle Senior High School. On October 9, 1965, he married his beloved wife, Barbara Ann (Ackerman) Higgins at St. John De LaSalle Church.
George was employed by the Carborundum Company as a heavy equipment operator for over 39 years prior to his retirement in 2003. He was a gifted athlete and a member of the golf, bowling, racquetball and softball teams while working at the plant.
George enjoyed the outdoors and belonged to the LaSalle Sportsman's Club for many years. He also had a love for corvettes, and cherished the times he spent with his loving family.
In addition to his wife of 56 years, George is survived by his children, Dawn (Gerald) Riddlebarger and David (Tabitha) Higgins; his grandchildren, Davon (fiancé Christopher Gruver) Riddlebarger, Garrett Riddlebarger, Morgan Riddlebarger, Kristyn Higgins, Ashley Higgins, Emily Higgins and was predeceased by his grandson, Patrick Higgins. Mr. Higgins is also survived by his brother, Timothy (Ida) Higgins, as well as many nieces, nephews and cousins. In addition to his grandson, he was also predeceased by his brother Kevin (Lisa) Higgins.
Visitation will be on Friday, February 18 from 2 – 4 & 6 – 8 PM at the M.J. COLUCCI & SON NIAGARA FUNERAL CHAPEL, 2730 Military Road, Niagara Falls, NY, where funeral services will begin on Saturday at 11:00 AM. Interment will follow in N.F. Memorial Park Cemetery. Memorial offerings may be made to the Make-A-Wish foundation in memory of George's grandson, Patrick Higgins, at wish.org, the Niagara County S.P.C.A., or Niagara Hospice. Visit mjcoluccifuneralchapel.com for online condolences.
---

All WNY is made possible thanks to coffee and sleep deprivation.
Buy us a cup? (of coffee, we can handle the sleep deprivation ourselves)