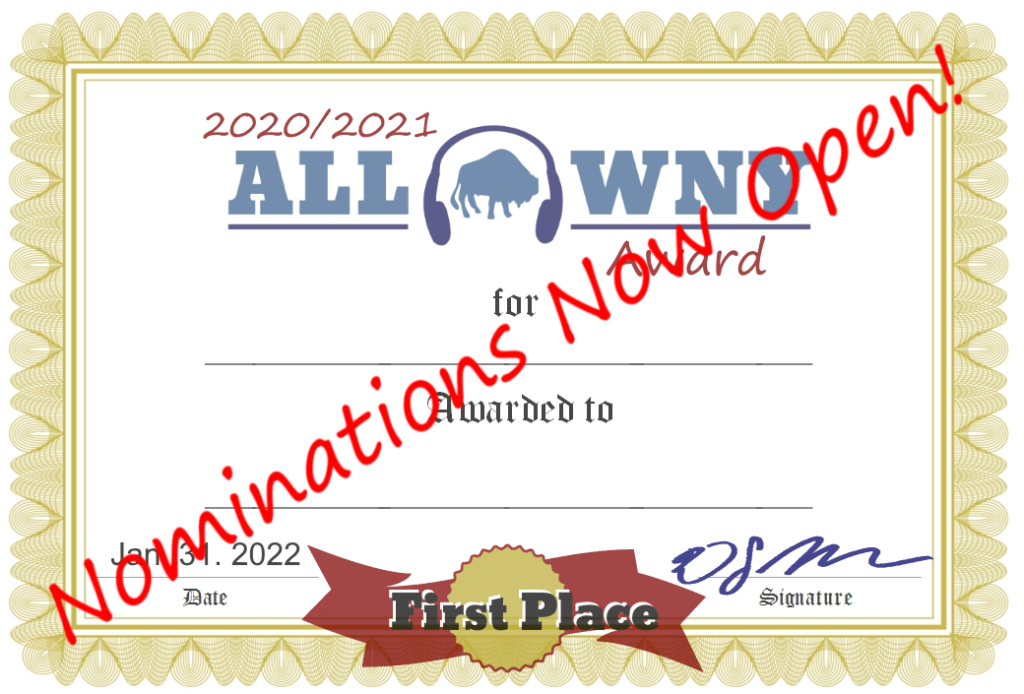 Hello, All WNY community.
It's that time again … Finally. After taking a year off from the All WNY Awards in 2020, we're back with a double live album: The 2020/2021 All WNY Awards. We want to know what you thought was the best in the local music industry over the past two years.
Nominations are open Feb. 8 – Feb. 28. You're welcome to nominate as many different people, bands, etc. as you like. Just make sure to put them in the right category. All nominations will be considered; nominating the same band multiple times in the same category has no mathematical advantage and will only serve to annoy the All WNY Awards committee.
A committee will pick the top 10 nominees in each category. A few members of the All WNY staff have agreed to sit on a committee to narrow the nominees in each category down to their top 10.
Nominees must have music playing on All WNY Radio*. As these are the All WNY Music Awards, we're limiting nominees to those bands that have music on our 24-7 music stream. If you don't and you'd like to be considered for inclusion, submit music now. If you're nominated and do not have a presence on the All WNY Radio music stream, you will have a limited time to submit music. (*bands or acts in the "Best Tribute / Cover Band category are exempt from this rule)

All WNY Radio rules apply. Band must be from Western New York and play original music.
Nominees must have had a music release or show in 2020 or 2021. You can't be the best band of the past two years if you didn't do anything in the past two years. As such, bands that have no public presence will not be considered. It is preferred that bands have an internet presence – whether it's Facebook, Soundcloud, a website, etc. This will make it easier for voters to familiarize themselves with you.
Please give details. You might know that Guy Fawkes plays lead guitar for V and the Vendettas. But others might not. So when nominating him, let us know. Example "Guy Fawkes (V and the Vendettas)." This will make it easier for the committee to find him.
Voting will be open for two weeks. (March 14 – March 28, 2022) After the selection committee whittles the nominees in each category down to 10, the public will vote on their favorite. The top vote-getter in each category will get the award.
Awards announced on April 1. April 1, 2022 is All WNY Radio's 16th birthday and we thought that would be a great day to celebrate. So the morning of April 1, we'll post all the winners at AllWNYAwards.com — and share it to social media.
If you have any questions, email me.
EDIT (March 1, 2022): Nominations are now closed. Voting begins March 14, 2022.

---

All WNY is made possible thanks to coffee and sleep deprivation.
Buy us a cup? (of coffee, we can handle the sleep deprivation ourselves)