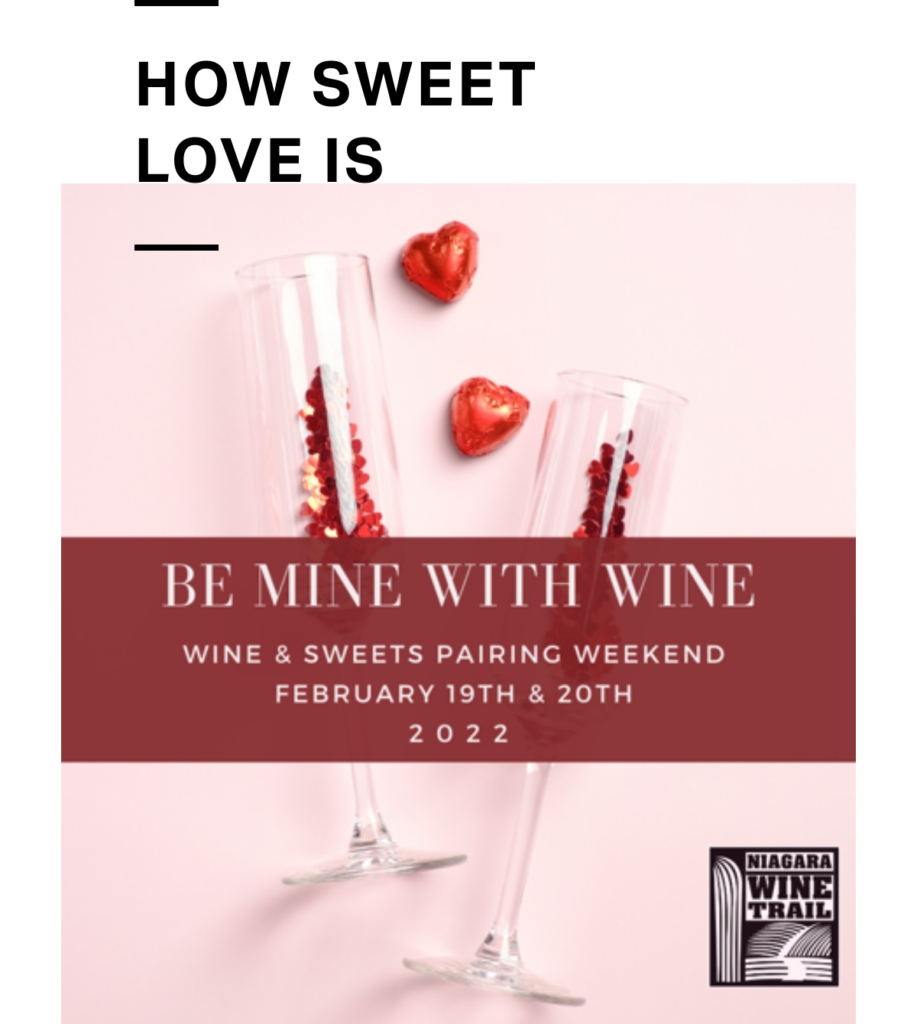 The Niagara Wine Trail's "Be Mine With Wine" event will be held the weekend of Feb. 19 and 20 at 11 wineries along the trail.
The two-day tasting pass includes three tastes of wine and a paired sweet treat at each of the participating wineries.
Featured Pairings:
A Gust of Sun Winery: Sample an assortment of handcrafted chocolate barks by Park Edge Sweet Shop. View the Tasting Menu for flights descriptions and pairing options.
Honeymoon Trail Winery: Enjoy cheeses paired with our most popular wines, plus take 20% off our Red wines this weekend.
Long Cliff Vineyard & Winery: An assortment of Ghiradelli Chocolates paired with 4 of our most loved wines.
Leonard Oakes Estate Winery: Our house-made Chocolate Meritage Cake with Ganache paired with wines.
Niagara Landing Wine Cellars: Assorted Chocolate Truffles paired with a variety of wines.
Schulze Vineyards & Winery: Italian Pizzelle Cookies dipped in chocolate paired with your choice of Old Barn Dry Red, Lake House Semi Dry Red or Sweet Ruby wines.
The Winery at Marjim Manor: Sample a church window cookie infused with Cocoa Cheri wine paired with our 3 cherry wines: Sophia's Sunrise for those who like dry, Cherry Rhapsody for the medium drinkers, and Cherry Concerto for those who like sweet.
Bella Rose Vineyard and Winery, Mayer's Lake Ontario Winery, Victorianbourg Wine Estate, and Vizcarra Vineyards at Becker farms are also participating.
For more information, visit https://niagarawinetrail.org/mine-wine/
---
---

All WNY is made possible thanks to coffee and sleep deprivation.
Buy us a cup? (of coffee, we can handle the sleep deprivation ourselves)