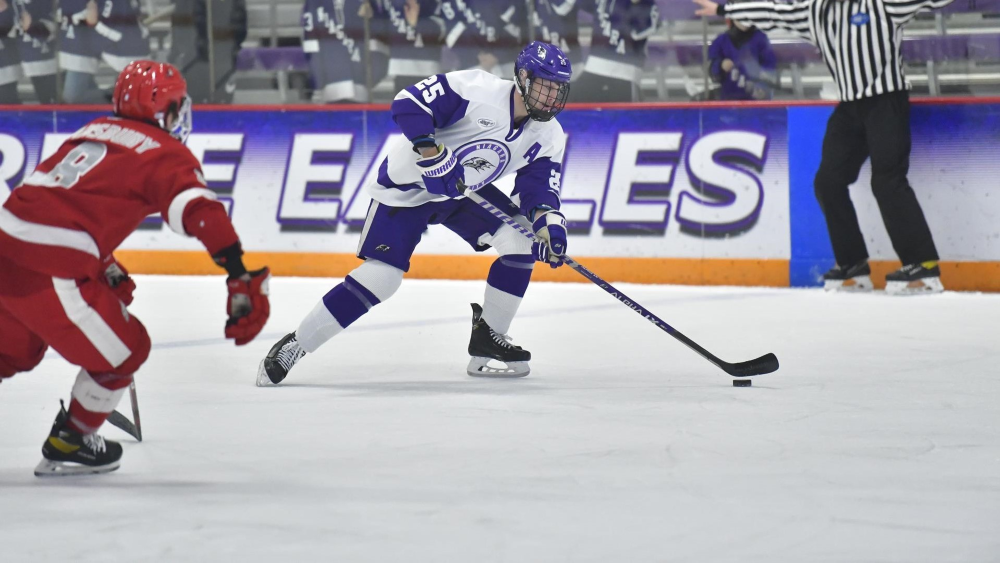 NIAGARA UNIV., N.Y. – The Niagara hockey team (6-12-2, 5-5-2-1 AHA) fell to Scared Heart (7-7-3, 5-4-2-2 AHA), 2-1, on Saturday to split its season series with the Pioneers.
Game Recap
First Period
Shane Ott and Jack DeBoer had early chances for Niagara, but neither of their shots found its mark.
A little over eight minutes into the period, the Pioneers scored to take a 1-0 lead over the Purple Eagles.
Christian Gorscak, Albin Nilsson, Jesse Pomeroy, Jason Pineo and Jordan Wishman sent a flurry of shots at the Sacred Heart goaltender midway through the period, but they were all saved.
The Purple Eagles continued to pepper the Sacred Heart defense with shots in the remainder of the period, with Josef Mysak, Jon Hill, Brandon Stanley, Ryan Cox, Ryan Naumovski, Zac Herrmann and Gorscak all having chances.
Niagara was on the power play 17:25 into the period. Nilsson, Walker Sommer, Mysak, Lars Rodne and Chris Harpur all had chances, but the Pioneers were successful on the penalty kill and led the Purple Eagles, 1-0, going into the first intermission.
Second Period
Harpur, Rodne and Stanley created opportunities in the first few minutes of the second period, but none of their shots hit their mark.
A little over nine minutes into the period, the Purple Eagles were back on the power play. Sommer, Mysak and Shane Ott all had chances.
Naumovski put the Purple Eagles on the board, and tied the score, 1-1, with a breakaway goal at 14:28. He was assisted by Nilsson and Herrmann.
The Pioneers quickly answered, scoring less than three minutes later to get back ahead, 2-1.
Third Period
About six minutes into the third period, NU was on the power play. Sommer had back-to-back opportunities, but one shot was saved and one was blocked.
Naumovski and Nilsson had strong chances in the final minutes of the period, but the Pioneers came away with the 2-1 win.
Eagle's Eye On
Harpur led the Purple Eagles in shots with four.
Nilsson had a team-high four blocked shots.
Jake Sibell (0-5-1) made 31 saves on the night.
Up Next
The Purple Eagles play two games at Air Force Jan. 14-15.
Stay connected with Niagara Hockey on Twitter and Instagram.Follow Niagara Athletics all year long on Twitter,Instagram, Facebook, purpleeagles.com and the Niagara Purple Eagles app.