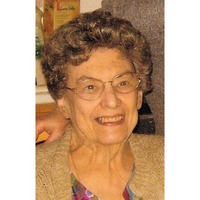 Amalia ("Mollie") Czyhura, 96, of Niagara Falls, NY, passed away peacefully on January 3, 2022 surrounded by her loving family. Born in Niagara Falls, NY, she was the daughter of the late Cirillo 'Jerry' and Rosalia (Sannicolo) Maule.
Mollie was a 1943 graduate of Niagara Falls High School. On July 23, 1960, she married Nick Czyhura at St. Mary's Byzantine Rite Church in Niagara Falls, Ontario. Mr. Czyhura predeceased her on July 29, 2007. Amalia was employed at Moore Business Forms in Niagara Falls, NY as a Teletype and Communications Operator from 1943 until her retirement in 1989. In her spare time, she enjoyed crafting with family and friends and solving puzzle books, and spending time with her grandchildren.
Mollie is survived by her children, Annette (Gary Goss) and William (Lee LaMantia) Czyhura; her grandchildren, Brianna Czyhura and Amanda Czyhura; her sister, Eleanor (late Joseph) Wisneski; her goddaughters, Patricia Fabin and Janet Cirillo, as well as several nieces, nephews and cousins. In addition to her husband of 47 years, she was predeceased by her siblings, late Aida Dawson, late Lena (late Mario) Campana, and late Wilbert (Delores) Maule.
The family would like to extend a special thank you to Mollie's aide, Judi Chapman, for the compassionate care given to her and the family.
Visitation will be held on Friday, January 7 from 4 – 7 PM at M.J. COLUCCI & SON NIAGARA FUNERAL CHAPEL, 2730 MILITARY ROAD, NIAGARA FALLS, NY 14304 where funeral services will be held on Saturday at 11 AM. The family requests that masks be worn at all times and that social distancing be practiced. Interment in St. Joseph Cemetery, Niagara Falls, NY. Flowers are graciously declined. Visit mjcoluccifuneralchapel.com for online condolences.
---

All WNY is made possible thanks to coffee and sleep deprivation.
Buy us a cup? (of coffee, we can handle the sleep deprivation ourselves)