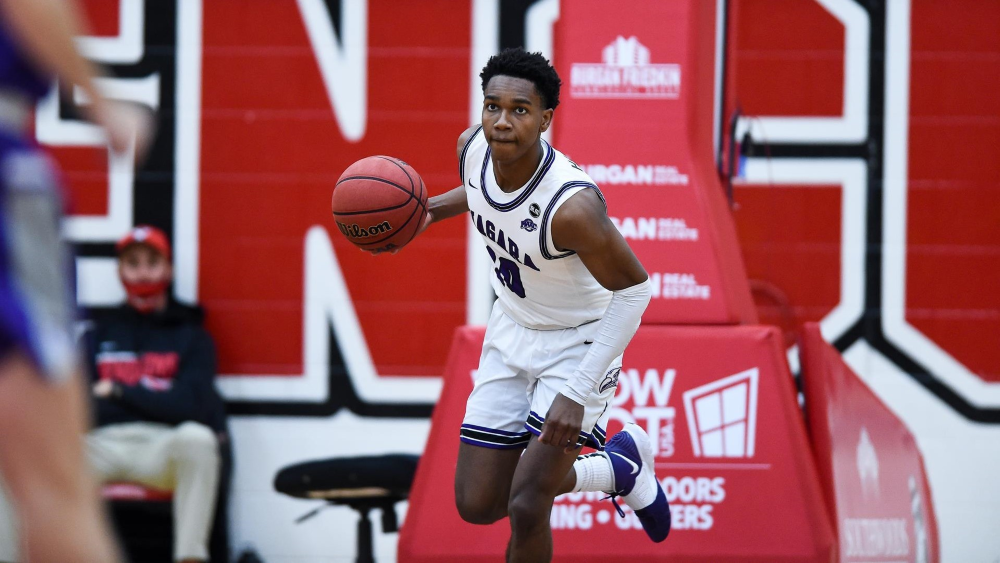 YPSILANTI, Mich. – Despite a late second-half push, the Purple Eagles (3-6, 0-2 MAAC) were narrowly defeated by Eastern Michigan (4-5, 0-0 MAC), 60-58, on Wednesday.
Game Recap
First Half
An early 6-0 run, including two points each from Noah Thomasson, Jordan Cintron and Marcus Hammond, gave Niagara an 8-3 lead over EMU.
A triple from Hammond put NU ahead by six, 11-5, with a little over 11 and a half minutes on the clock.
Another three from Hammond gave Niagara a four-point lead, 16-12, with about 10 minutes remaining in the half.
The Eagles took the lead, 21-20, with four and a half minutes left, but two points each from Cintron and Greg Kuakumensah put the Purple Eagles back on top, 24-21.
Kuakumensah sank three free throws with a little under two minutes to go, but Eastern Michigan had a three-point lead, 30-27, going into halftime.
Second Half
Eastern Michigan extended its lead to 10 points, 39-29, early in the second half. A free throw from Touba Traore and a bucket from Kuakumensah cut the lead to seven, 39-32.
With a little over 11 minutes left in the game, the Eagles led by 14, 48-34, but the Purple Eagles went on a 9-0 run, including two free throws from Kuakumensah, two free throws and a 3-pointer from Julian Mackey and two foul shots from Hammond, to come back within five points of the lead, 48-43.
Hammond sank another trey with 4:40 to go to leave NU trailing by just six points, 56-50.
Trailing by eight, 58-50, a layup and a jumper from Mackey and a 3-pointer from Sam Iorio put Niagara within one point of the lead, 58-57.
Eastern Michigan, however, hung on to win the game by just two points, 60-58.
Eagle's Eye On
Hammond led the team in scoring with 17 points. He went 4-for-4 from the free throw line and added a team-high two assists. He also brought down six rebounds.
Cintron led the team in rebounding with seven boards. He added eight points for the Purple Eagles, going 4-for-5 from the field.
Kuakumensah added 13 points and Mackey had a career-high 11 points.
Cintron and Hammond led the team in steals with two each.
Up Next
The Purple Eagles return to the Gallagher Center to host Buffalo State on Sunday, Dec. 12 at 1:00 p.m.
Stay connected with Niagara Men's Basketball on Twitter and Instagram. Follow Niagara Athletics all year long on Twitter, Instagram, Facebook, purpleeagles.com and the Niagara Purple Eagles app
---