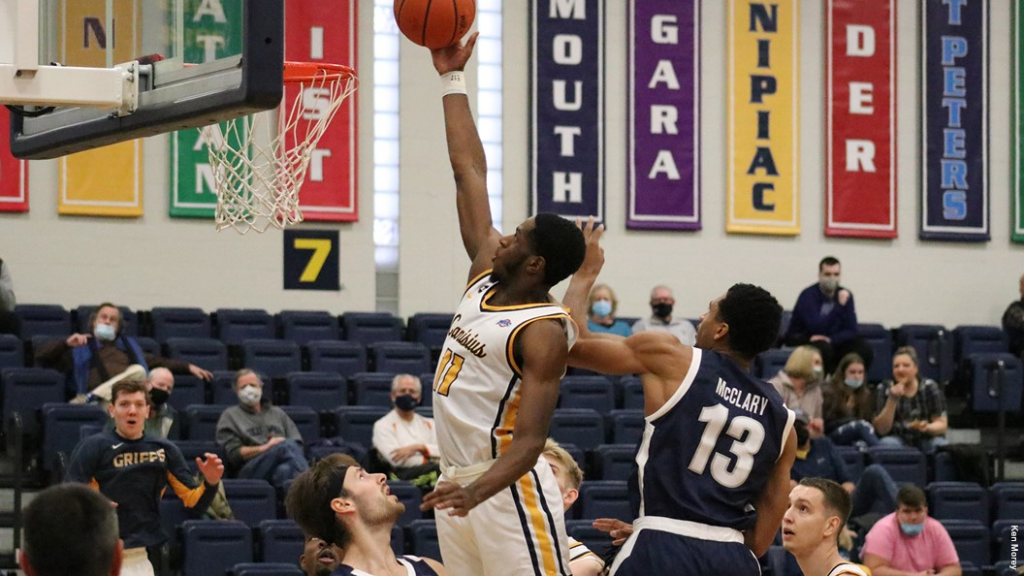 Monmouth used an 18-0 run over the span of 8:51 in the first half, and then the visiting Hawks held off a strong push by Canisius in the second half to record a 79-65 win in MAAC men's basketball action Sunday afternoon at the Koessler Athletic Center. Monmouth improved to 7-1 overall and 2-0 in MAAC play with its seventh-straight victory, while the Golden Griffins slipped to 2-7 overall and 0-2 in MAAC action with their third-straight loss.

GAME RECAP
A bucket by Canisius graduate student Scott Hitchon made the score 16-11 in favor of Monmouth with 14:05 left to play in the first half, but that would end up being the Griffs' last field goal for 10:14 seconds of game action. Monmouth took advantage of Canisius' offensive struggles in the time frame, using an 18-0 run to make the score 35-11 with 4:55 left in the opening stanza. Monmouth's cushion never dipped below 19 points before the break, and the Hawks went into the locker room at intermission up 47-26 after the visiting team shot 54.8 percent from the floor, while holding the Griffs to a 26.7 percent shooting clip.

Out of halftime, Canisius scored 10-straight points to make the score 47-36 in favor of Monmouth just 5:07 in the frame. In that scoring spurt, junior Armon Harried scored six of Canisius' points. Moments later, senior Jordan Henderson drilled a 3-pointer from the right wing to put Canisius down by eight at 49-41 with 12:58 remaining. The score difference remained between eight to 10 points for the next few minutes before Monmouth outscored Canisius by a 9-2 count to extend its lead back to 16 points at 63-47 with 7:16 remaining.

The Griffs made one more run at the Hawks down the stretch after a jumper by Henderson cut the Monmouth lead to 71-63 with 3:39 left to play. However, Monmouth ended any hopes for a late comeback attempt by the Blue and Gold with a 6-0 run, capped by a 3-point field goal by graduate student Walker Miller with 1:32 remaining.

Harried led all Canisius scorers with his 20 points, his third 20-plus point effort of the season. He also tallied three assists and grabbed two rebounds in the loss. Junior Akrum Ahemed matched a career-high with 16 points to go with five boards, three steals and two assists, and Henderson chipped in 13 points, with three of his five makes from the field coming from behind the 3-point arc. Junior Jacco Fritz was good for seven points, seven rebounds and a career-high five steals for Canisius, which shot 37.3 percent from the field, 26.9 percent from 3-point range and 66.7 percent from the free-throw line on the day.

Miller tallied a career-high 24 points in the win for Monmouth, which is off to its best start since 1990-91. Graduate student George Papas recorded a double-double with 19 points and a game-high 11 rebounds and fellow graduate student Shavar Reynolds added 18 points and four rebounds.

Head Coach Reggie Witherspoon's Postgame Comments
"I thought the first half [Monmouth's] pressure was outstanding, It just took us out of things. I said this before the game, I think they're as good as any team we've played this year. We could not get looks at the basket. When we did, and we got fouled, we did not make free-throws. As a result of that, our effort went down and we got discouraged."

"In the second half, we came out with a lot of determination and we tried to dig ourselves out of a hole. And we were better in a lot of areas. We have to learn from this and figure that all out."

"It was obviously tough being with Malek [Green] and Ahamadou [Fofana], but that presents other opportunities for people. Those other guys have to be of a mindset to embrace that opportunity. If we can get that, we might be on to something. But we have to be able to see today as a day where guys understand how hard they have to go from here on out."

GAME NOTES
• Sunday was the 19th all-time meeting between Canisius and Monmouth in a series that dates back to 2013-14. Monmouth has won six straight over the Griffs and now leads the series 13-6.
• Seven of Harried's 20 points came from the free-throw line, with the seven free-throws setting a new career-high for the Baltimore, Md., native.
• Fritz's five steals are the most for a Canisius player this season. He also extended his streak of grabbing five-or more rebounds in a game to seven straight.
• Henderson's three 3-point field goals gives him multiple 3-point makes in 26 games in his career.
• The Griffs were without the services of seniors Ahamadou Fofana (flu) and Malek Green (ankle).

UP NEXT
Canisius will return to the non-conference portion of its schedule on Wednesday, Dec. 8, when the team travels to play at Northern Kentucky. Game time is set for 7 p.m., and the contest will be broadcast live on ESPN+.

For complete coverage of Canisius men's basketball, please follow the Griffs on social media at @Griffs_MBB on Twitter and Instagram.
---

All WNY is made possible thanks to coffee and sleep deprivation.
We appreciate your readership. We like money, too.