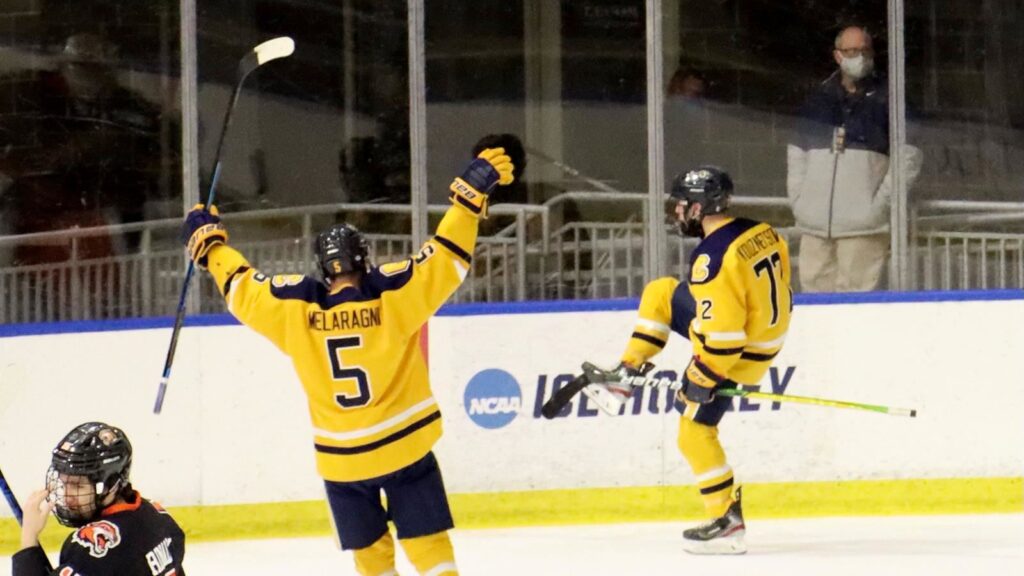 Canisius scored five unanswered goals to erase a one-goal deficit and pull away from RIT as it posted a 6-2 victory in game two of their 2021 Atlantic Hockey Tournament quarterfinal round series Saturday at LECOM Harborcenter in downtown Buffalo.
 
Sophomore Keaton Mastrodonato tallied a goal and added two assists for the Golden Griffins (10-5-0), who completed a sweep of the best-of-three series with Saturday's victory to advance to the tournament's semifinal round next weekend. Senior Grant Meyer and juniors Lee Lapid and Mitchell Martan all finished with a goal and an assist while sophomore Ryan Miotto and freshman Max Kouznetsov accounted for the other two Canisius tallies.
 
Dan Hamacher and Danny Willett scored for the Tigers (9-9-2), who saw their season come to a close with Saturday's setback.
 
Kouznetsov opened the scoring just 2:50 into the contest, beating RIT goaltender Logan Drackett between the pads with a wrist shot on the rush for his third of the season.
 
The Tigers responded with a pair of power-play goals later in the frame to build a 2-1 advantage.
 
Hamacher tied the game just past the midway point of the opening frame, burying a cross-ice feed from Elijah Gonsalves for his seventh of the season before Willett gave RIT the lead with his second of the series when his slap shot from the top of the point beat Canisius sophomore goaltender Jacob Barczewski to the blocker side.
 
Mastrodonato tied the game at 2-2 with 3:39 gone in the second period, collecting a loose puck in the neutral zone and racing past the RIT defenseman on the right side before placing a wrist shot over the glove of Drackett for his ninth of the campaign.
 
Meyer put Canisius back in front at the 14:09 mark of the second with a power-play tally, tapping home a goalmouth feed from Lapid to give the Griffs a 3-2 advantage.
 
Lapid provided some breathing room for Canisius with less than five minutes remaining in regulation, converting on a shorthanded rush by sliding the puck between the legs of Drackett to make it a 4-2 contest.
 
Canisius closed out the scoring with a pair of empty net goals in the final thre minutes of regulation as Martan and Miotto both found the cage to secure the win and complete the sweep.
 
Barczewski made 29 saves in goal for Canisius Drackett recorded 19 stops in goal for RIT.  
 
Head Coach Trevor Large's Postgame Comments
"Our guys were clicking and playing together tonight, especially as the game went on. It was a very energetic third period from us. In the third, we played very together, very hard, and obviously, the goal from Lee Lapid shorthanded was a huge moment in the game. I'm very proud of the penalty kill to be able to react and improve from the first period. RIT's powerplay was moving it around quite a bit and caused us a lot of confusion, but obviously the shorthanded goal ended up being a huge moment. Barzo (Jacob Barczewski) was great tonight. Our depth was great. Our d-core played extremely well, breaking the puck out with simple passing. All-in-all, it's obviously a great team win, great team effort. To win a playoff series and move on is the goal and it continues to be. So, we celebrate tonight and we get ready for our next opponent.
 
"As a staff, we've asked our guys to improve in that area (shot blocking). When I think back to the summer and as we started to play this season, blocking shots was an area we desperately needed to see improvement in. The players listen to us, they took that to heart and now they've taken ownership of it. It's unbelievable. Every guy in our team. When an opponent gets a chance to shoot our guy is going to do his job, he's going block that shot. If it takes two guys to do it, they're committed to do that. If a shot does get through, we got Barzo, Ladder (Matt Ladd) and Tucker Weppner back there who can make a save. So that is an absolute team commitment and I'm extremely proud of this group for that it's one of the things that makes this team so special.
 
"The job of the power play is not necessarily to score, although that is the ultimate goal, their priority is to gain momentum. Tonight, that's a goal that puts it puts us up 3-2, so it's a huge moment in the game, to bring us into the third period up a goal. We talk to the powerplay a lot about how that is their job, their priority is to make sure that we are gaining momentum because of the powerplay, that one just happened to be a great play by Lee Lapid in front, and then obviously a great goal from our captain, Grant Meyer, who deserved it. Our power plays deserved it because they've been working extremely hard. They got it done tonight so for that group I'm very excited. And now with now the goal is, they got to continue to get better and keep building that momentum."
 
Game Notes
• Canisius advances to the championship weekend of the AHA Tournament for the seventh time in program history and the first time since the 2017-18 with Saturday's victory.
• The Tigers out-shot Canisius by a 31-25 margin for the contest, highlighted by a 15-4 edge in the first period.
• Canisius was 1-for-4 on the power play while RIT was 2-for-4 with the man advantage.
• Canisius recorded a shorthanded goal for the fourth time this season with Lapid's third-period tally.
• Canisius finished the 2020-21 campaign with a 6-1-0 record on home ice.
• The Griffs improved to 7-1-0 this season when scoring first.
• Canisius also improved to 10-2-0 in 2020-21 when scoring three or more goals in a game as it established a season-high with its output on Saturday.
• Mastrodonato matched his career high with his three-point output on Saturday. Mastrodonato has tallied multiple points in six games this season.
• Martan recorded multiple points in a game for the second time this season with his two-point effort on Saturday.
• Meyer recorded the second game-winning goal of his career and the first since his decisive tally against nationally-ranked North Dakota on Jan. 5, 2019.
• Miotto tallied multiple points in a game for the third time this season with his two-point effort on Saturday.  
• Lapid recorded multiple points in a game for the second time this season. Canisius improved to 6-0-0 this season when Lapid finishes with at least one point.
 
Up Next
• Canisius advances to Championship Weekend of the AHA Tournament, which will be held at the MassMutual Center in Springfield, Mass., on March 19-20.
• The Griffs' opponent for the single-elimination semifinal round will be determined at the conclusion of the quarterfinal round on Sunday.
---