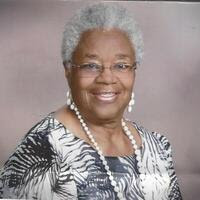 GENEVA was born to James and Lorine Smith in Tams, West Virginia, on November 12, 1934. She was the youngest of the three children born into a family of coalminers and was raised and educated in a tight-knit coal-mining community. At the end of each school year she would visit her family in Buffalo, New York, and upon completion of her school years at Bryd Prillerman High School where she was a cheerleader in her early years she decided to make Buffalo her home. In 1953 she relocated to Buffalo with her infant daughter, Sandra Kay, and was welcomed to live with her Uncle Reecie and his family in their home on Eagle Street where a community of West Virginia family undergirded and supported one another. Geneva met and married Irving Bryant in 1956. To this union was born two daughters, Marilyn Denise Bryant and Diana Lee Bryant.
Geneva confessed Christ at an early age. Her Christian faith was an important part of her life and living so upon her arrival in Buffalo she joined Friendship Baptist Church. In 1956 she transferred her membership to St. John Baptist Church where she was a faithful member and servant under the leadership of Rev, Bernie C. McCarley, and then Rev. B.W. Smith, and finally the present leadership of Overseer Michael Chapman, until her transition. Faithful worship was important and she raised her daughters in church. Church for her children and grandchildren was never an option but always a necessary part of living in her home. Because of that influence her heart was made glad to have two of her daughters enter ordained ministry. She was an energetic and enthusiastic servant in ministry and her devotion to the work of the "doorkeeper" is legendary. She served over 60 years as an usher on duty and held positions of leadership until one year ago when health challenges would not permit. She was a member of the Usher's Association and was honored by them after 50 years of service. She was instrumental in the development of the Youth and Young Adult Usher Board and served in leadership positions with the Adult Usher Board. Geneva was an active, diligent, and faithful servant and actively participated in a number of auxiliaries such as the Nurses Guild, Sunflower Club, and Senior Fellowship. She enjoyed over the years singing with the United Voices of St. John and the Senior Choir. But if ever her compassion and Christ-heart was evident it was in her devotion to the ministry of bereavement. She served as a chairwoman and co-chairwoman. Many lives were touched as she helped families and individuals navigate the most stressful of times in a loving way. She sat with and aided many of her friends and loved ones as they themselves faced illness and death. She served faithfully in all areas of ministry until her health failed one year ago.
Though she lacked the benefits and accolades of a higher education Geneva had an incredible work ethic that made her a valuable worker and an asset to any organization she worked for. To her family and her community she was a great model for hard work, operating in excellence, and never letting adversity stop you. She was one of the first women to work at Bethlehem Steel Corporation and the first woman and first African American woman supervisor to work at the Ford Stamping Plant in Woodlawn, NY, where she retired in 1997at the age of 62. Not one to rest on her laurels and with a need to be productive she took a job driving school bus that catered to the special-needs student. She was devoted to the children placed in her care and was loved by the students and their parents. Geneva worked in this position for the next 20 years until 2017 and the age of 82 and was devastated when her health challenges prevented her from continuing.
The essence of how she impacted this earth will never be forgotten by her children, her grandchildren, her godchildren, the young people she mentored, her girlfriends, her church community and her neighbors. Her lifelong friendship with Minister Bertha Brewer, and the late Deaconess Gussie Simmons, and Ada Wade was a lesson in love and acceptance and pure fun. She was an avid bowler for years and passed that love on to some of her children, and tried to play a little golf when she could. Not only did she love to shop (for herself and others) she was certainly a fashion plate when she wasn't in an usher's uniform. She loved to decorate her home and her property for every occasion but nothing compared to her Christmas decorations in the home and on the street which made her home a holiday showplace. She will be remembered by her children as fiercely devoted to her family, always willing to help, mentor, guide, and listen. She loved young people and the young people loved her.
Even when many health challenges began to overtake her she never complained and was always gracious to those who came alongside to help her. She was loving and kind even though grieved to not be able to live in her own home but graciously accepted living in the home of her daughter, where, under the care of Hospice, Geneva transitioned from this life to eternity on July 2, 2020, surrounded by her loving family and care companion.
She was preceded in death by her beloved daughter, Marilyn Bryant; her parents, James and Lorine (Fannie) Smith; her siblings, Gloria Smith Moss and James Quentin Smith. She leaves to mourn her passing daughters; Evangelist Sandra (Michael) Scruggs; Minister Diana L. (Vern) Morrow; Grandchildren: Tracy Brown, Rickey Bryant, Dawn Thurman, Paul Harrison; great grandchildren, Rickey, Raquise, Christopher; Madison, Olivia; Zikomo, Jr., Zora; Kniko, Kasey, Kali; and three great-great grandchildren; her cousins, Bobby Fountain, Linda Johnson and Ernest Dobbins. She will be sorely missed by her nieces and nephew; Julie Mills, Lorine Collins, Sheila Smith, and Keith Smith; her godchildren, Duane and Kayla. She will be mourned as a surrogate mother over the years to Rosalind, Kim, Toni, and Kathy; and the women who called her "Aunt Geneva" for the last 50 plus years Rev. Dr. Claudette Copeland and Rev. Mary L. Wilson.
Special thanks to the women who came alongside Geneva and her daughters to assist in caring for her in the last year of her life: Evangelist Merry Cherry, Lakita Boyette, Gail Foster-Kingsley, Aretha Coleman, Malissa Jackson, her friend, Ada Wade, and Hospice.
A walkthrough viewing for all who loved her will be held Thursday, July 9, 2020 from 6 PM-9 PM at THOMAS T. EDWARDS FUNERAL HOME, INC., 995 Genesee St. Family will privately gather on Friday, July 10, 2020, 11 AM at St. John Baptist Church, 184 Goodell St. for a Celebration of Life. Entombment Oakwood Mausoleum, Forest Lawn Cemetery. Face masks and social distancing required.