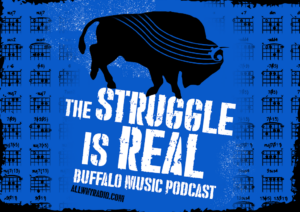 We celebrate the end of 2019 with a Will Webb created Best of 2019 episode. It includes games, interviews and music from Dredneks, The Scarecrow Show, Intent to Sell, Handsome Jack, Muddle, LESIONREAD and Nine Layers Deep!
1:00 – GAME: "Slash / Cash / The Clash" with Jon Juchniewicz (Dredneks / The Scarecrow Show)
7:05 – MUSIC: "Eye Up" by Intent to Sell
11:22 – INTERVIEW: Bennie Hayes (Handsome Jack)
25:19 – MUSIC: "Baby Be Cool" by Handsome Jack
28:56 – RYAN YELLS ABOUT: Filling out proposals correctly
37:24 – MUSIC: "Crackhead Behavior" by Muddle
40:25 – INTERVIEW: Shawn Lewis (LESIONREAD)
49:19 – INTERVIEW: Alaysa Dale & Jimmy McFarland (Nine Layers Deep)
59:32 – MUSIC: "Funeral" by Nine Layers Deep
You can find us on Facebook at facebook.com/TheStruggleIsRealPodcast and on Twitter @SIRpodcastNY.
---

All WNY is made possible thanks to coffee and sleep deprivation.
Buy us a cup? (of coffee, we can handle the sleep deprivation ourselves)