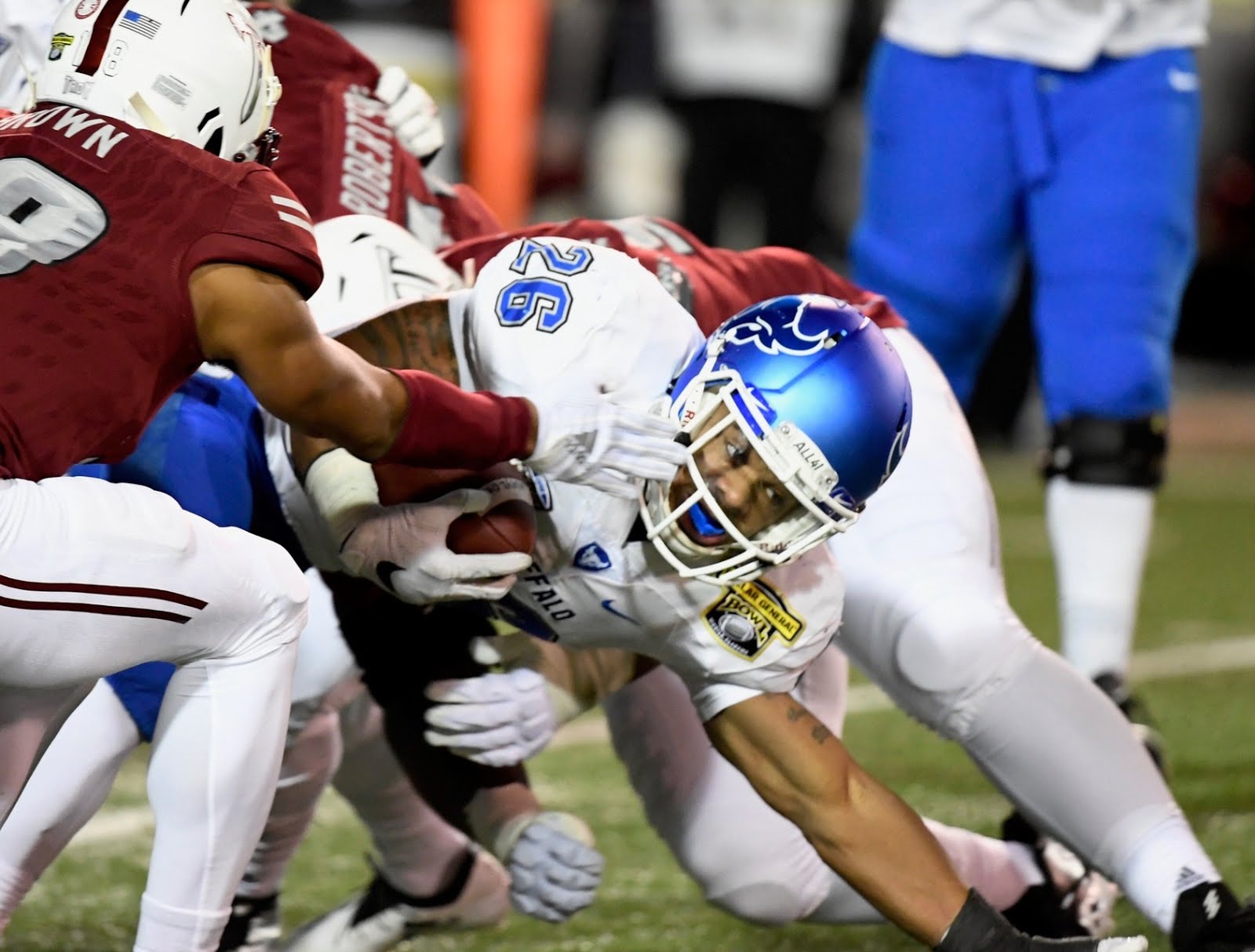 UNIVERSITY AT BUFFALO ATHLETICS
---
MOBILE, AL – The University at Buffalo football team uncharacteristically turned the ball over four times and it proved to be the difference in a 42-32 loss to Troy in the Dollar General Bowl held at Ladd-Peebles Stadium on Saturday night. The Trojans were able to score 14 points off turnovers and had possession of the ball for much of the second half.
It started out well for the Bulls as, like they had done many times this season, went right down and scored on their first possession of the game. After Antonio Nunn hauled in a deflected pass for a 51-yard gain, Jaret Patterson scored on an 11-yard touchdown run to give Buffalo a quick 7-0 lead.
Troy needed just three plays to tie the game, as Trojan quarterback Sawyer Smith hit a streaking Tray Eafford in stride for a 60-yard touchdown.
The Bulls mounted a 14-play, 96-yard drive, early in the second quarter, and Kevin Marks capped the drive with a 1-yard touchdown dive to give the Bulls a 14-7 lead with 11:06 left in the half.
After the Trojans tied the game at 14-14 with 6:15 left in the second quarter, the Bulls mounted a 10-play, 41-yard drive and Adam Mitcheson drilled a 41-yard field goal with 52 seconds left to give UB a 17-14 lead at the half.
The Trojans took the opening kick of the second half and kept their offense on the field for the entire third quarter. After mounting a 75-yard scoring touchdown drive on their first possession to take a 21-17 lead, Troy surprised the Bulls with an onside kick and got the ball right back. However, with the ball inside the UB 5-yard line and it looking like Troy was going to score again, James Patterson came up with a big hit to jar the ball loose from the Trojans quarterback. Safety Tyrone Hill scooped it up and dashed 93-yards for a touchdown to put the Bulls back up, 24-21.
However, a gassed UB defense remained on the field and Troy capitalized. The Trojans needed 12 plays to drive 69 yards and scored on a 2-yard touchdown pass to regain a 28-24 lead early in the fourth quarter. Following a 3-and-out by the Bulls, Troy struck again, connected on a 45-yard touchdown pass to build its lead to 35-24 with 11:25 left in the game.
The Bulls didn't give up. K.J. Osborn made a spectacular one-handed touchdown grab to cut the deficit to 35-30. On the ensuing 2-point conversion try, Tyree Jackson scrambled, eluded rushers and found Nunn in the endzone for the conversion. The Bulls trailed 35-32 with 7:24 left in the game.
Following a Wesley Scott third-down sack, the Bulls got the ball back on their own 21-yard line with 3:28 left and trailing by three. However, on the first play of the drive, Jackson was sacked and fumbled the ball. It was recovered by Troy. On the very next play, the Trojans ran it in for a touchdown to extend their lead to 42-32.
Despite the loss, a number of Bulls finished the season by hitting significant milestones. Patterson rushed for 67 yards in the game to put him over 1,000 for the season. With 1,013 yards on the year, he became the first freshman running back in school history to rush for 1,000 yards in a season.
Anthony Johnson had 67 yards on five catches to go over 1,000 yards on the year. He became just the third player in school history to have two 1,000-yard seasons in a career.
Jackson threw for 274 yards in the game to put him over 3,000 for the season. He joined Drew Willy (2008) as just the second quarterback in school history to throw for 3,000 yards in a single season with 3,131.
In addition, All-MAC center James O'Hagan made his 50th career start for the Bulls. He became just the second player in school history to start 50 games in a career (Pete Bittner was the other).
"First of all, we lose a great group of seniors," head coach Lance Leipold said. "We talked a little bit about that last night. We are a melting pot so to speak, we aren't just going to recruit in one state or two. We've got guys from Germany, Florida, Georgia, California, Hawaii, and everywhere in between. It's a pretty special thing when you watch these guys come together the way they battle. We have five seniors that hung through a coaching change. Guys like Tatum (Slack) that came in for three years, Kahlil Hodge, Anthony Johnson redshirted then played. We've had other guys that have joined us along the way. First and foremost, guys like James O'Hagan said coach, 'I'll do anything I can to make this a winning program.' That guy has played about 99 percent of the snaps since I've been here.
"We are going to miss guys like that. At the same time we have a lot of guys coming back on offense, you saw a lot of these guys make a lot of nice plays tonight. Antonio Nunn had probably had his best game of the year. Then two of our young running backs. Jaret Patterson rushed for 1,000 yards this season. And everyone knows the talents of this young man (Tyree Jackson) sitting next to me. I feel good about where our program is heading, but we have a lot of work to do."
The Bulls finished the 2018 campaign with a school-record 10 wins and advanced to a bowl game for just the third time school history.
---