STAFF REPORTS
---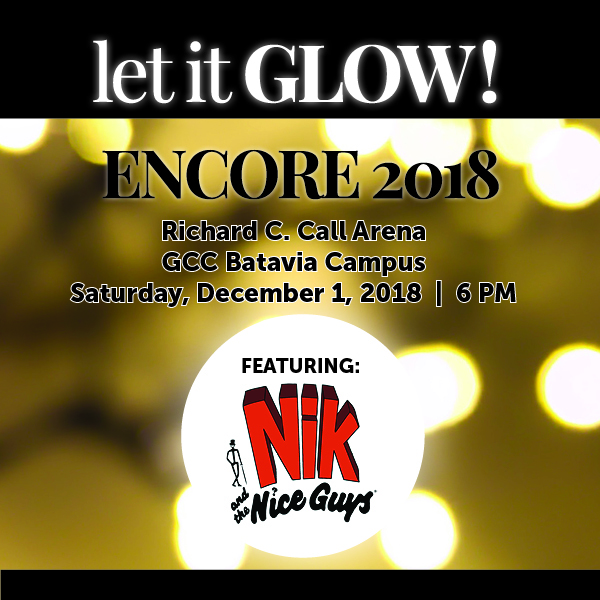 BATAVIA, N.Y. — "We are nearing the last chance to get tickets for our 2018 Encore, 'Let it GLOW' – which directly supports student scholarships and our community," Kim and Tom Cox, co-chairs of this year's Encore said. "We are so excited about this event. Great fun for a great cause is the best way to kickoff the holiday season!"
Since its inception more than 25 years ago, the Encore Gala has become a holiday tradition that significantly impacts the scholarship programs at Genesee Community College. In 2017, the Foundation awarded over $224,000 in scholarships.
As the world and economic factors continue to change, the need for scholarships has grown. Purchasing tickets to 'Let it GLOW' puts funds directly into the scholarship account that impacts the lives of GCC students and their ability to complete their academic goals.
As just one example, when Madalyn, a GCC student from Leicester, NY, lost her mother, she knew she had to find a way to finish her education – honoring her mother's wishes by staying on track toward a career in healthcare. Madalyn had an opportunity to express her gratitude stating: "I would like to thank you for lightening my financial burden due to my mother's recent death. Graduating meant everything to my mother, and she would be very proud of me for continuing with school and not giving up on my dream of becoming a respiratory therapist."
GCC has always seen the promise and fulfillment in its scholarship recipients and this year has been no exception.
"Encore is the Foundation's longest-running and largest fundraising event," Tammy Arneth, director of Development and Alumni Affairs said. "It is a fun and festive evening with fantastic entertainment, delicious food and specialty drinks. And with the focus on students and their future, there is a shared sense of purpose that is perfect for holidays. With the support of our donors and community members, Madalyn and hundreds of other GCC students who will need scholarship assistance are given an opportunity to earn college degrees and make a difference in the future of our community, and our world."
The Encore celebration is a critical funding portion of our scholarship program and its proceeds are generated by ticket sales. Visit www.genesee.edu/home/foundation/events/encore now to get your seats for Genesee Community College Foundation's 2018 Encore Gala! The event begins at 6 p.m. on Saturday, December 1, 2018 in the Richard C. Call Arena at GCC in Batavia!
Encore highlights will include:
Encore co-chairs, Tom and Kim Cox, who created the 'Let it GLOW' theme.
An all NEW, festive party atmosphere with plenty of convenient parking and the entire event will be in the Richard C. Call Arena!
6 p.m. Cocktail hour with gourmet hors d'oeuvres, themed signature drinks and stylish jazz holiday music by The DSP Jazz Trio.
7 p.m. Gourmet sit-down dinner.
8 p.m. all NEW music and dancing with Nik and the Nice Guys
Special discounted rate at the following Batavia hotels: Clarion Hotel (585) 344-2100 or the Batavia Downs (585) 815-7000. Rooms limited, advanced reservations encouraged.
Encore sponsorship opportunities are still available at several levels: Holiday Chord Circle – $1,000; Golden Guitar Society – $600 and Inner Circle – $300. Each sponsor level includes tickets (six, four or two respectively) for the gala and recognition in the Encore program and the live digital Encore display. Individual tickets can also be purchased for $100 each.
Visit https://www.genesee.edu/home/foundation/events/encore/ or contact the Foundation Office at (585) 345-6809 or pahume@genesee.edu today to get your tickets and make the important scholarship contribution.
For further information and photographs, contact Donna Rae Sutherland, associate director of Marketing Communications at (585) 343-0055 x 6616 or dsutherland@genesee.edu.


Additional Details: http://news.genesee.edu/news/2018/08/29/all-new-gcc-encore-celebration-will-let-it-glow
---

All WNY is made possible thanks to coffee and sleep deprivation.
Buy us a cup? (of coffee, we can handle the sleep deprivation ourselves)