STAFF REPORTS
---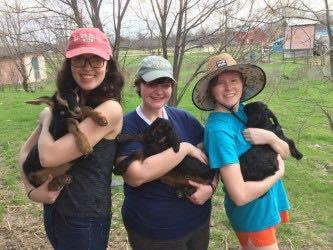 BEREA, Ohio — Sarah Brown of Hamburg was one of 41 kindhearted Baldwin Wallace University students who dedicated their 2018 spring break to making a difference through the BW Alternative Break service program. The program facilitated five diverse community engagement projects with student volunteers traveling to Waco, Texas, Clarkston, Georgia, San Francisco, Miami and Washington. Each experience was led by a BW student with a University faculty or staff adviser providing support.
Brown, a graduate of Frontier Senior High School majoring in sociology, volunteered to take part in the alternative break experience in Waco. The BW senior signed up for this "Mystery Trip" without knowing the destination or the type of service. The outreach was in partnership with World Hunger Relief, Inc., a Christian organization committed to the alleviation of food insecurity and malnutrition through sustainable agriculture and community development. Students volunteered on the organization's farm where they performed daily chores, took care of the animals and even created a farm-to-table meal. The group also had the opportunity to visit Magnolia Market, Cameron Park and the Dr. Pepper Museum. The trip was led by BW student Sarah Gattis with support from staff adviser Lin Chafetz.
The BW Alternative Break service program provides students with opportunities to make a difference, travel to another area, learn new skills and meet people with similar interests. Participants commit to a six-week, pre-trip curriculum including issue education, organization orientation, team building and a full-day retreat on social justice and cultural competency. Alternative Break is one of many community service programs organized by the David & Frances Brain Center for Community Engagement to support BW's mission of empowering students to become contributing, compassionate citizens. Community groups interested in partnering with BW can contact the Center at 440-826-2403 or BrainCenter@bw.edu.
Baldwin Wallace University, founded in 1845, was one of the first colleges to admit students without regard to race or gender. An independent, coeducational university of 4,000 students, BW offers coursework in the liberal arts tradition in more than 80 academic areas. Located in Berea, 12 miles from downtown Cleveland, BW offers students the cultural, educational and business advantages of a major metropolitan area.

---
---

All WNY is made possible thanks to coffee and sleep deprivation.
Buy us a cup? (of coffee, we can handle the sleep deprivation ourselves)