On July 14, 2021, The Bureau of Criminal Investigation arrested Keith Renaldo Jr., 38 of Irving, NY for Murder 2nd degree (A Felony).
On Tuesday, June 29, 2021at 3:00 P.M., Troopers out of SP Collins were contacted by the Seneca Nation of Indians Marshals on a possible missing person investigation. Gina J. Baca, 45 of Angola, NY has not been seen or heard from in weeks.
On July 1, 2021, Baca was located deceased by the NYSP Bureau of Criminal Investigation (BCI) in a small pond just outside the Seneca Indian Reservation. The NYSP Forensic Identification Unit (FIU) and Under Water Recovery Team were used to investigate the surrounding area of Baca deceased body. Baca's cause of death was a gunshot wound to the head. The BCI using the evidence collected from (FIU) and other investigative steps led to the arrest of Renaldo.
Renaldo was arraigned in the town of Brant Court and remanded to the Erie County Holding Center without bail. Brant is scheduled to reappear at the town of Brant Court on July 21, 2021.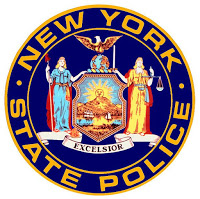 ---