Erie County Medical Center is among the top 10 percent in the nation for Orthopedic Services, according to new research by Healthgrades, the leading resource that connects consumers, physicians and health systems. Each year, Healthgrades evaluates hospital performance at nearly 4,500 hospitals nationwide for 32 of the most common inpatient procedures and conditions using Medicare data, and all-payer data from 16 states for bariatrics and appendectomy procedures.
Healthgrades Specialty Excellence Awards recognize hospitals with superior performance in specific specialty lines and specialty focus areas. For the 2021 Report to the Nation, Healthgrades compared Specialty Excellence Award recipients for Orthopedic Surgery as a group, to all other hospitals, as a group, and found: From 2017-2019, patients treated at hospitals receiving the Orthopedic Surgery Specialty Excellence Award have, on average: • 39.6% lower risk of experiencing a complication while in the hospital than if they were treated in hospitals that did not receive the award. From 2017-2019, patients treated at hospitals which did not receive the Orthopedic Surgery Specialty Excellence Award have, on average: • 1.66 times more likely to experience one or more complications in the hospital than if they were treated at hospitals that did receive the award. 
Dr. Brad Bowman, MD, Chief Medical Officer, Healthgrades said, "The importance of hospital quality is top of mind for consumers, as they are becoming more aware of the differences of care provided by different hospitals. Consumers can feel confident knowing that hospitals that are recognized for their performance in Orthopedic Services provide high quality care and superior outcomes."   
Thomas J. Quatroche Jr., PhD, ECMC President and CEO said, "This is another affirmation of the quality of care at ECMC and our commitment to our patients.  As Western New York's leader in fracture care and orthopedic trauma, ECMC has achieved Healthgrades' 2021 Orthopedic Surgery Excellence Award™ and have received their Five-Star Hip Fracture Treatment recognition for 11 years in a row (2011-2021). We could not be more proud of the doctors, nurses and staff who care for our orthopedic patients."ECMC's orthopedics and sports medicine specialists excel in treating patients in a range of circumstances, from planned orthopedic work to treatment of major trauma, customizing patient plans depending on what is best for each individual situation. Each of our orthopaedics experts specializes in a specific area, so whether treatment is needed for hand, foot, ankle, shoulder, elbow, wrist, knee, hip, or spine injuries, our patients receive the very best care they need. In addition, ECMC has a dedicated, specialized nursing staff just for the orthopedics department to support the specialists and surgeons who are on-site and on call 24 hours a day, 7 days a week, ensuring immediate orthopedic trauma care in ECMC's KeyBank Trauma and Emergency Department, Western New York's only Level 1 Adult Trauma Center. 
For its analysis, Healthgrades evaluated approximately 45 million Medicare inpatient records for nearly 4,500 short-term acute care hospitals nationwide to assess hospital performance in 32 common conditions and procedures, and evaluated comparative outcomes in appendectomy and bariatric surgery using all-payer data provided by 16 states. Healthgrades recognizes a hospital's quality achievements for cohort-specific performance, specialty area performance, and overall clinical quality. Individual procedure or condition cohorts are designated as 5-star (statistically significantly better than expected), 3-star (not statistically different from expected) and 1-star (statistically significantly worse than expected). The complete Healthgrades 2021 Report to the Nation and detailed study methodology, can be found at https://partners.healthgrades.com/healthgrades-quality-solutions/healthgrades-quality-awards/.
The post ECMC Named Top 10 Percent in the Nation for Orthopedic Services appeared first on Buffalo Healthy Living Magazine.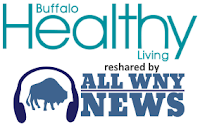 ---

All WNY is made possible thanks to coffee and sleep deprivation.
Buy us a cup? (of coffee, we can handle the sleep deprivation ourselves)