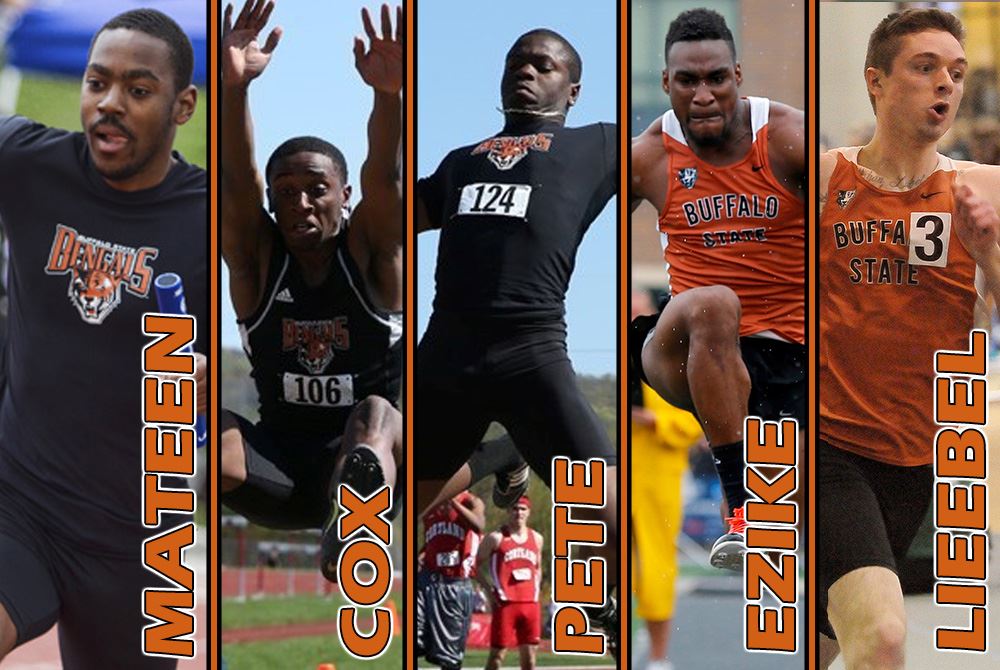 CORTLAND, N.Y.—The State University of New York Athletic Conference (SUNYAC) announced its Men's Track & Field All-Decade Team for athletes who competed from 2010-2020 and the list included five Buffalo State student-athletes, Xavier Mateen, Cory Cox, Rich Pete, Ben Ezike and Robert Liebel.
Mateen's four-year career was highlighted by an NCAA Division III Championship in the 55-meter dash in 2011 as a senior. He also helped the Bengals to their first-ever SUNYAC Indoor Championship in the same year. Mateen went on to win two more individual championships at the SUNYAC outdoor meet in 2011 and was named SUNYAC Runner of the Year. He was also a four-time SUNYAC relay champion and was a three-time qualifier for the NCAA Championships.
Mateen earned his bachelor's degree in computer information systems in 2011.
Cox was a four-time All-American in the long jump, including a pair of fourth-place finishes at the indoor and outdoor NCAA Championships as a sophomore in 2014. He also placed eighth at the indoor meet as a freshman and was sixth as a senior at the indoor championship. Cox also qualified for the NCAA Championships in the outdoor long jump in 2013 (placed 10th) and in the 200-meter dash during the 2014 outdoor and indoor seasons, finishing ninth and 10th respectively. Cox was as four-time SUNYAC Champion in the long jump and earned all-conference honors in the 200-meter dash.
Cox earned his bachelor's in health and wellness with a minor in coaching in 2016. Today, he is a physical education teacher and track and field coach at UPrep Charter School in Rochester, N.Y.
Pete was a three-time All-American and a three-time SUNYAC Champion in the triple jump and also won a conference title in the long jump in 2014 and was named SUNYAC Indoor Field Athete of the Year. He finished fifth in the triple jump at the 2014 NCAA Indoor Championships and added a pair of eighth-place finishes at the outdoor national meet. Pete was also a three-time All-Conference running back with the Bengals' football team.
Pete completed his bachelor's in business administration in 2016. He is a business development associate with Alliance Advisory Group and also assists people with developmental disabilities obtain meaningful work through People, Inc.
Ezike competed just two seasons at Buffalo State, capturing a pair of National Championships, claiming the indoor and outdoor triple jump crowns in 2016. Ezike was the SUNYAC champion in the outdoor triple jump in both 2016 and 2017 and was the conference runner-up at the 2016 indoor meet.
Ezike finished his bachelor's degree in sociology in 2017. He currently works as a mail carrier in Staten Island and is partners in a music studio called Demonlow Studios LLC.
Liebel competed for the Bengals from 2014-2018 and emerged as one of the SUNYAC's premier sprinters, earning Outstanding Track Athlete of the Meet accolades at his final four SUNYAC Championship meets. During his junior and senior seasons, he claimed nine SUNYAC titles, winning the indoor and outdoor 200-meter dashes twice each. He also won the outdoor 100, indoor 60 and was part of titles with three relays. Liebel was also second team All-SUNYAC as a sophomore.
Liebel graduated from Buffalo State in 2019 with a degree in health and wellness with minors in hospitality and coaching. He currently works as a claims processor for Blue Cross Blue Shield of WNY.
---