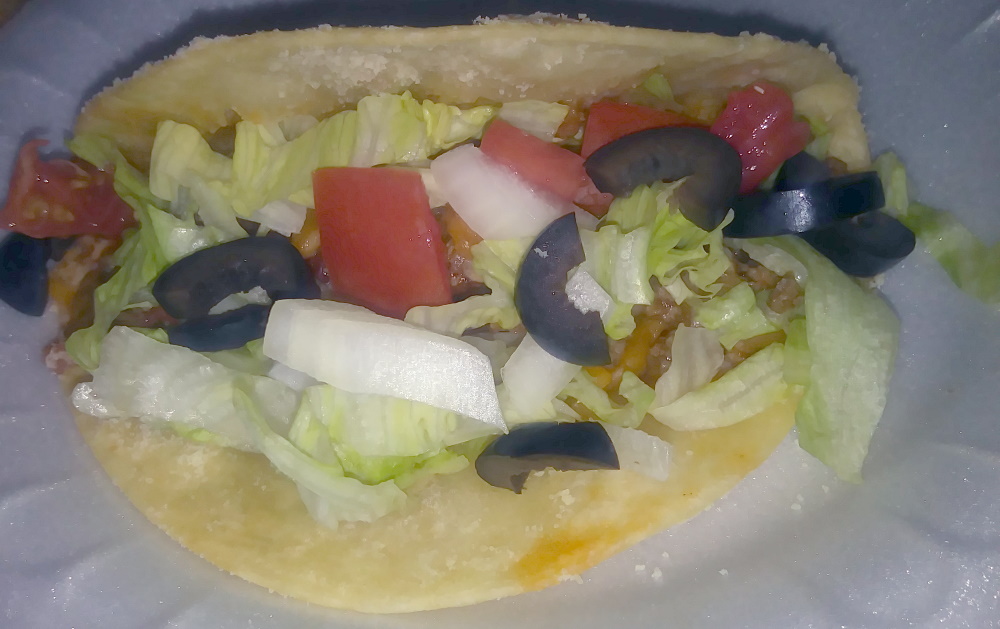 It's taco time. We had taco Tuesday the other day and they were fantastic. My husband is in charge of that meal and he does something special with the shell that he is allowing me to share.
1 1/2# ground beef
1 can rotelle tomatoes with diced green chilis, mild or hot your choice
1 package of taco seasoning
1 package flour taco size tortillas
1 small onion, diced
2 tomatoes, diced
1 small can sliced black olives
1/2 head of iceberg or romaine lettuce, shredded
1 8oz bag of shredded cheese, I use colby/jack combination
4 slices of american cheese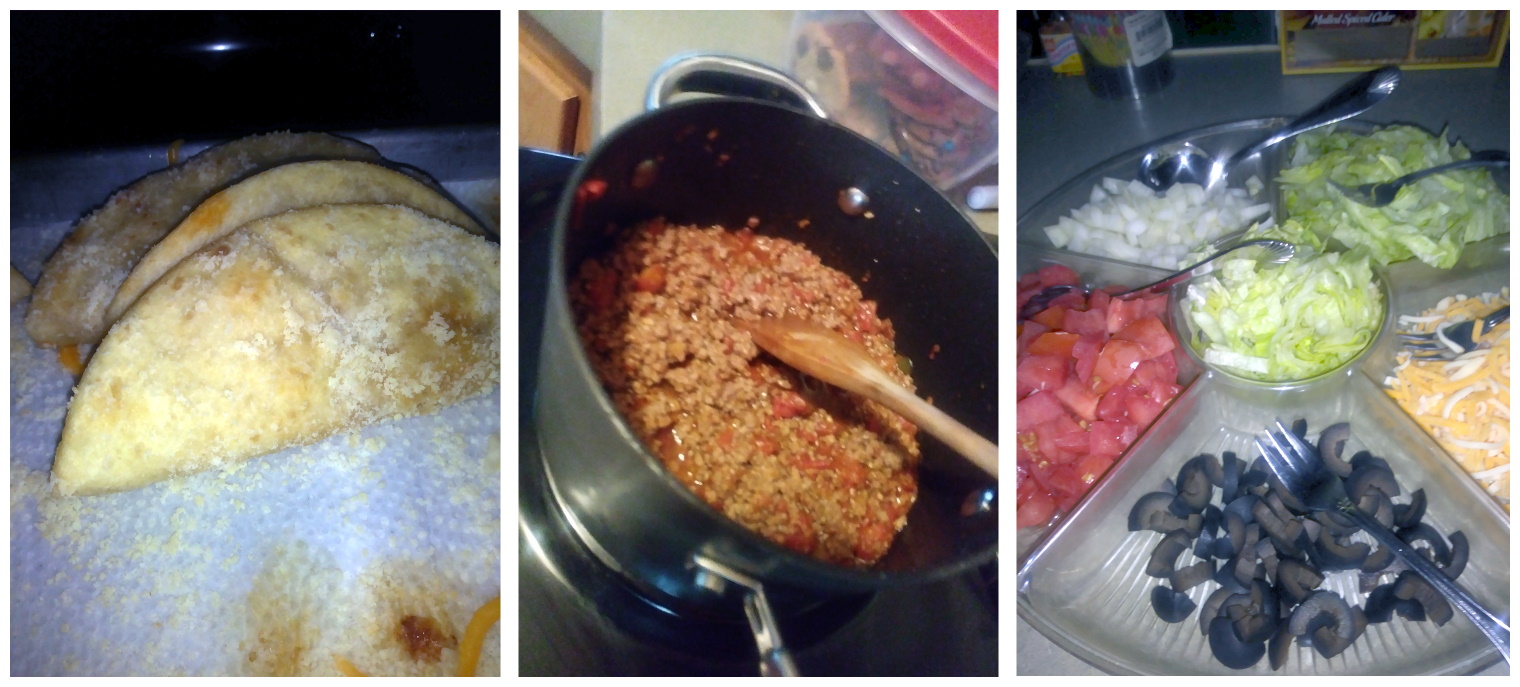 First brown and drain the grease from the hamburger, stir in the taco seasoning and the can of diced tomatoes, let it cook and simmer about 10 minutes, to really enhance flavors. While that is simmering start your shells, my husband lightly fries his shells in a big saute pan using vegetable oil, he fries both sides until lightly golden brown takes them out of oil, ( shakes Parmesan cheese all over the out side, and then takes a piece of american cheese that he has previously broken into 4 pieces and lays 2 strips down the center of the shell and then places the taco meat on top of that and places it on a paper towel lined sheet pan and puts the pan into 250 oven to keep warm as he builds the rest of the shells. It takes a little time, but they are so worth the wait, that is the main reason my daughter wanted these served at her wedding, which we did, Once all the shells are all done place them on your table and let each person build there taco. You will be very surprised how great they taste and will soon become a convert to flour tortilla tacos.
If you want to keep it leaner you easily do the same thing with groun turkey or chicken. And if you even want to get more creative you can even make your own flour tortillas, I don't have a tortilla press so when I make them I use a roling pin and really work out my anger issues, one of the good things that comes out of making your own shells is that you can take the time to add in an extra flavor at that time, my favorite is to add in sliced green onions, yum. Here is a basic flour tortilla recipe:
4c all purpose flour
1t salt
2t baking powder
2T lard
1 1/2 c water
Combine all dry ingredients and whisk together, mix in lard with fingertips until resembles cornmeal.
Add water and mix until dough comes together, and then if you want to put in mix ins now is the time. place on lightly floured surface and knead a few minutes until smooth and elastic. Divide into 24 pieces, and roll each one out until it looks like a flour tortilla, and lightly fry them in a pan flipping over so that they are lightly golden brown on each side.
Hope you enjoy the shells they are awesome.

Natilie Cavnar is a cooking fanatic who loves to try new recipes, and create some of her own, ask her what you want at thenormalchef@gmail.com.
---