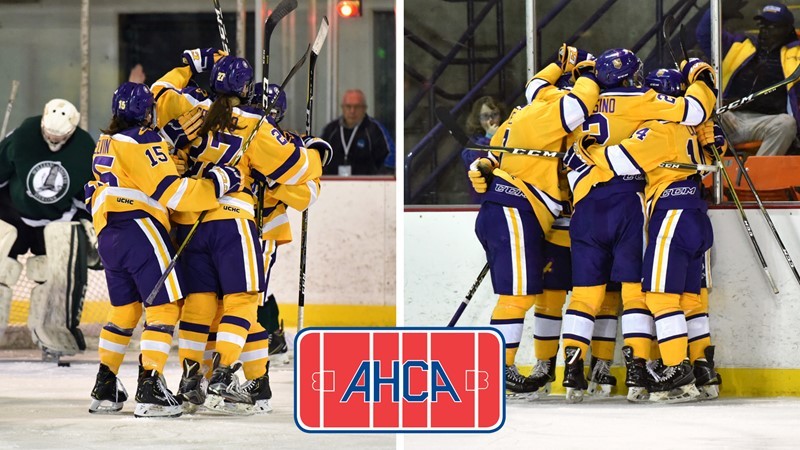 STAFF REPORTS
---
ELMIRA — Patrick Schmelzinger, of Jamestown was one of fourteen student-athletes named to the American Hockey Coaches Association (AHCA) All-American Scholars on august 29, 2109. The Elmira College men's and women's ice hockey programs continued to earn recognition for outstanding academic achievement by the team's respective student – athletes, as 14 skaters were announced as AHCA All-American Scholars.
The Soaring Eagles placed eight skaters from the women's side and six from the men's team on the national list, three more than the 2018 rendition of the annual honor.
On the men's side, Adam Eby '21, Harry Kramer '20, Blake O'Neill '19, Anthony Parrucci '20, Andrew Pucci '20 and Patrick Schmelzinger '20 represented the Purple and Gold after excellent years in the classroom.
For the Elmira women, Eliza Beaudin '22, Elizabeth Hanson '21, Kristin Chivers '19, Katie Granato '19, Bella Hanson '21, Stephanie Martin '22, Shannon Strawinski '19, and Tristan Tolan '21 all earned recognition from the AHCA. The recently graduated Granato adds another academic feather to her cap after previously being named to the Google Cloud Academic All-America Third Team, as selected by the College Sports Information Directors of America (CoSIDA). The Naperville, Illinois, native earned special distinction from the AHCA, as she was one of nine student-athletes to previously earn AHCA/CCM All-American status for their performance on the ice.
In order to be eligible for the award, varsity ice hockey players must have attained a 3.6 GPA each semester and participated in 40% of their school's games in the 2018-19 season.
Founded in 1855, Elmira College is a private, residential, liberal arts college offering 30-plus majors, an honors program, 17 academic societies, and 20 Division III varsity teams. Located in the Southern Finger Lakes Region of New York, Elmira's undergraduate and graduate student population hails from more than 20 states and nine countries. Elmira is a Phi Beta Kappa College and has been ranked a top college, nationally, for student internships. The College is also home to the Center for Mark Twain Studies, one of four historically significant Twain heritage sites in the U.S., which attracts Twain scholars and educators from around the world for research on the famous literary icon. Proud of its history and tradition, the College is committed to the ideals of community service, and intellectual and individual growth.

---