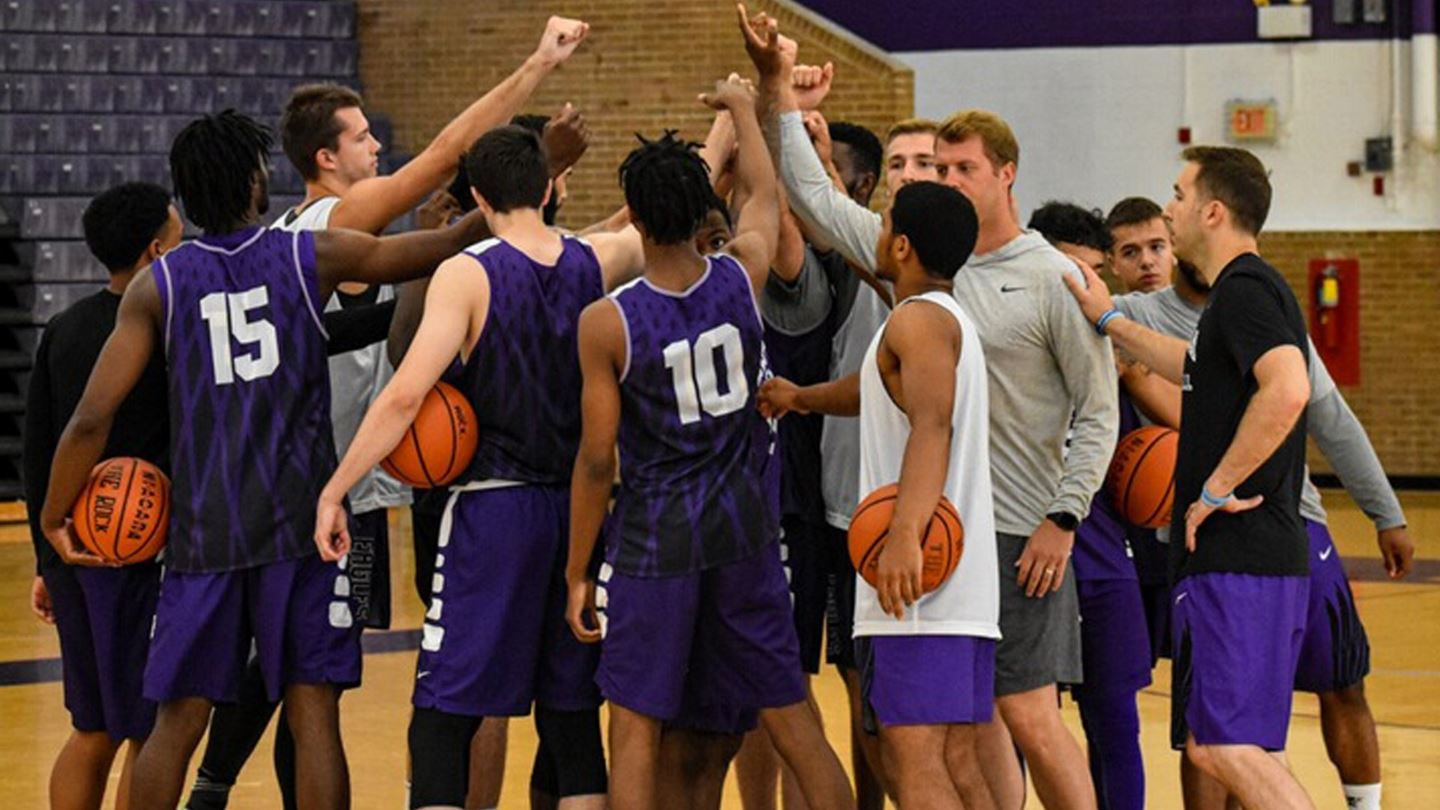 ---


NIAGARA UNIV., N.Y. – The Niagara University men's basketball program has released its complete schedule for the 2019-20 season.

"We are eager and excited about this upcoming season," said first-year head coach Patrick Beilein. "We have put together a challenging non-conference schedule in hopes to prepare for us a difficult MAAC conference. We want to be playing our best basketball in February and March."

The Purple Eagles will kick off their non-conference schedule with games against Drexel (Nov. 8), Rutgers (Nov. 10), Stephen F. Austin (Nov. 13) and Bryant (Nov. 18) as part of the Garden State Hardwood Classic. Niagara will play the first three games on the road, before opening its home schedule against Bryant.

The Purple Eagles take on Purdue Fort Wayne on Nov. 27 and Norfolk State on Dec. 1. This is the fourth straight season NU will face the Spartans and the Purple Eagles won the last three match-ups. Norfolk State was invited to participate in last year's NIT and made it to the second round.

On Dec. 8, Niagara will welcome the Colgate Raiders to the Gallagher Center before closing out its non-conference slate with four straight road games. The Purple Eagles head to Albany on Dec. 14 and take Big 4 rival St. Bonaventure at the Reilly Center on Dec. 18.

The Purple Eagles renew their rivalry with Big 4 foe Buffalo on Dec. 21 at Alumni Arena. The Bulls went 32-4 last season and made it to the second round of the NCAA Tournament.

Niagara closes out its non-conference schedule on Dec. 28, taking on Syracuse in the historic Carrier Dome. It will be NU's first meeting with the Orange since Dec. 31, 2000. Syracuse went 20-14 in 2018-19, falling to Baylor in the first round of the NCAA Tournament.

The Purple Eagles open MAAC play at home with games against Fairfield (Jan. 3) and Manhattan (Jan. 5).

Niagara heads to Quinnipiac on Jan. 10 and faces four-time defending MAAC Champions Iona on Jan. 12.

NU returns to the Gallagher Center to host Rider on Jan. 17 and Siena on Jan. 19, before heading back out on the road to face Monmouth (Jan. 24) and Saint Peter's (Jan. 26).

The Purple Eagles host Marist on Jan. 31 and Quinnipiac on Feb. 2 and take on Manhattan (Feb. 7) and Rider (Feb. 9) on the road.

On Feb. 12, Niagara will kick off a three-game homestand, hosting crosstown rival Canisius for the first installment of the annual Battle of the Bridge series.

Following the Griffs, Niagara will host the Monmouth Hawks on Feb. 16.

The Purple Eagles play at Fairfield on Feb. 21 and Marist on Feb. 23 before returning home to face Saint Peter's on Feb. 27 and Iona on Feb. 29.

Niagara closes out the regular season on the road, taking on Siena on March 4 and closing out the Battle of the Bridge series at Canisius on March 6.

The MAAC Championships will be held March 10-14 in Atlantic City, New Jersey.

Beilein and the Purple eagles return six players from last year's squad, including James Towns (10.5 ppg, 3.8 rpg), Raheem Solomon (7.8 ppg, 2.3 rpg) and Marcus Hammond (5.8 ppg, 2.0 rpg) and welcome six newcomers.

For ticket information, contact the Niagara Athletic Ticket Office at 716-286 TIXX, tickets@Niagara.edu or www.PurpleEagles.com/Tickets.

Non-Conference Notes
Niagara defeated Drexel 93-74 in their last matchup on Nov. 23, 2016…NU has split their two all-time meetings with Rutgers, beating them on Dec. 12, 1968 and losing to the Scarlet Knights on Nov. 20, 2016…The Purple Eagles will play Stephen F. Austin and Bryant for the first time in program history…NU is undefeated in four matchups with Norfolk State in program history…Niagara leads the all-time series with Colgate 29-4…The Purple Eagles are 3-3 all-time against Albany…Niagara has emerged victorious in its last two contests against St. Bonaventure…NU won the first six all-time contests with the Buffalo Bulls…The Purple Eagles will play Syracuse for the first time since Dec. 30, 2000.
---