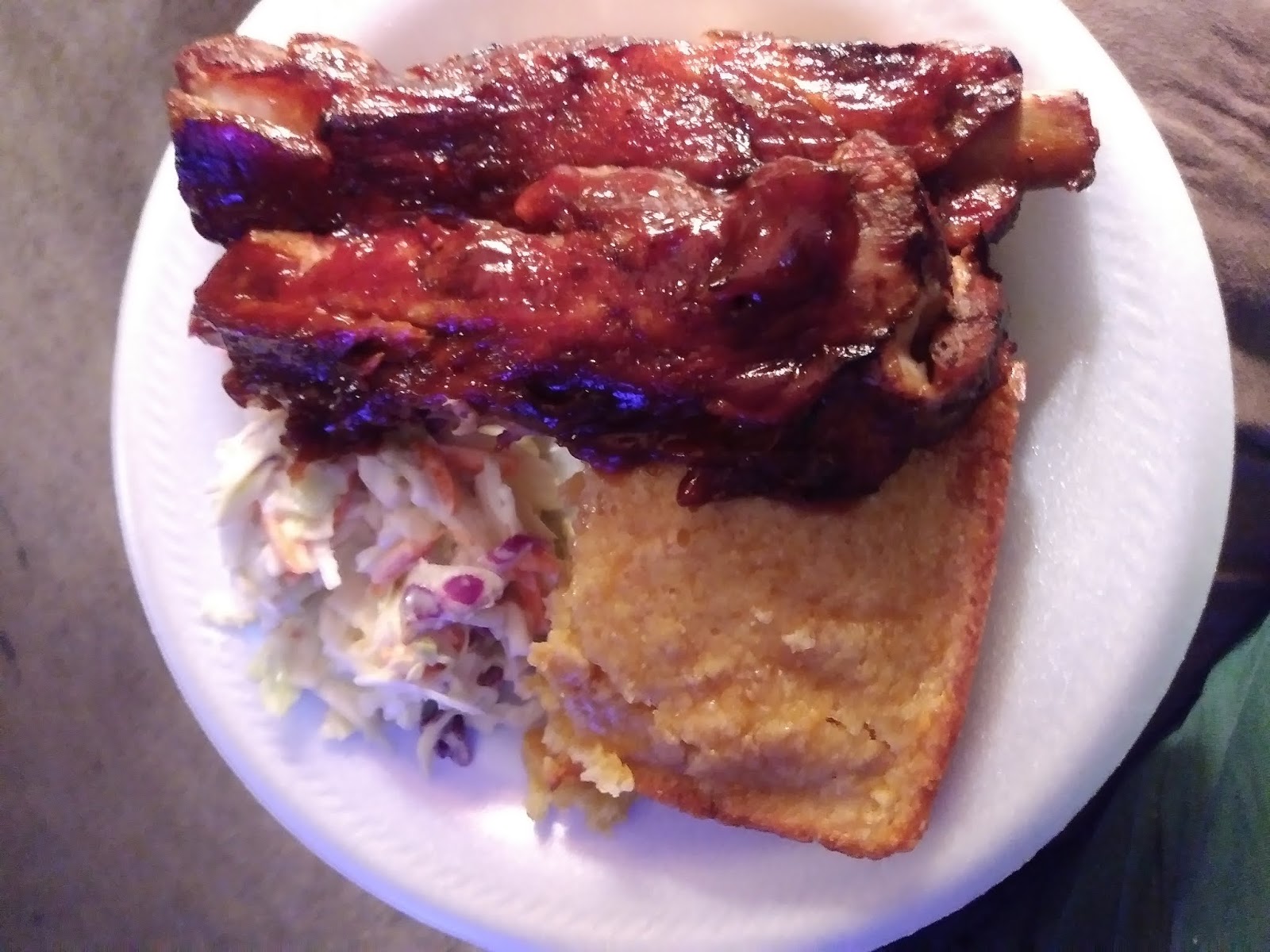 I was going to smoke some ribs in my smoker this week but mother nature had other plans, so I did them in the crockpot instead, and man oh man they did not disappoint. The first thing I did was make a dry rub for them, and rubbed them and let that rub sit on them for 2 hours before I put them in the crockpot.
Rib rub
1/2 cup brown sugar
1t granulated garlic
2T chopped onion
2T kosher salt
2t dry mustard
1t freshly ground black pepper
1t paprika
Pinch crushed red pepper.
Mix together and make sure you rub all over your ribs
I bought a cut slab of baby back ribs because they were on a great sale.
1pound of them, I rubbed the ribs all over them, and put them in the fridge for 30 minutes to let the rub really penetrate the meat.
Took my crockpot and covered the bottom of the pot with orange juice, 1 inch high, your favorite kind will work fine. Then I took the ribs and put them in the crockpot and cooked them on high for 4-5 hours.
When they were done I put them on a broiler pan and slathered them with bbq sauce, yes I cheated I used Sonny hickory smoke flavor, and put them under the broiler until that sauce all was nice and caramelized on them bad boys.
Oh my goodness they were so tender, it didn't turn out so bad that mother nature was against me that day because dinner turned out great. I served that up with some homemade coleslaw and some souped up box mix of cornbread.
Coleslaw:
1/2 head of green cabbage finely shredded
1 carrot peeled and shredded
Red cabbage, if you have some sure shred it and add it if not don't worry about it
Now this is where I vary my recipe the most, grated onion, I will grate 1/4 of a onion over cabbage, so I get the juice on there as well, if you don't like or don't want the onion don't add it not a problem. Mix all this up, Make your dressing and pour it over it and let it sit at least 1 hour before serving. If you do not want to make the dressing don't the store bought ones are very good.
Coleslaw dressing:
2 cups mayonnaise
1/4 cup powder sugar
1 capfull of vinegar, I used white, but you can use Apple cider or rice wine if you want, I would not use red wine in this recipe, it will change the color and the taste a lot.
1t celery seed
Mix all in a bowl and pour over your coleslaw, letting it marinate for 2 hours before serving. My family likes more of a wet coleslaw some like a drier kind if you find that it is too wet, just drain some of the dressing off.
The cornbread. I bought a box of honey cornbread mix and followed the directions, but I added :1 cup frozen whole kernal corn
2 cup shredded cheddar cheese
1-2 T. Hot pepper sauce
Mixed well and poured it into a well sprayed 9×9 pan and baked it in a 350 oven for 20 to 25 minutes, until a toothpick inserted in the middle came out clean. While it was still warm I brushed it with honey butter. ( melted butter about 1/4 cup with 1T honey) let it set until cool and then cut it in squares and served it.
No matter what the weather is like outside if you are willing to change up your cooking method a little you can still serve up great BBQ food. Enjoy everyone, as well as the rest of your summer which has just gone to fast. The next article will be about back to school lunches and a couple of quick breakfast meals as our children get ready to go back. As always I am here if you have any questions.

Natilie Cavnar is a cooking fanatic who loves to try new recipes, and create some of her own, ask her what you want at thenormalchef@gmail.com.
---