Has the heat of summer gotten to everyone yet? I know that it has me, so for me it means more salad and sandwich meals, because I do not want to spend time over the stove or in the oven in this kind of heat. Therefore I eat a lot of salads and sandwiches.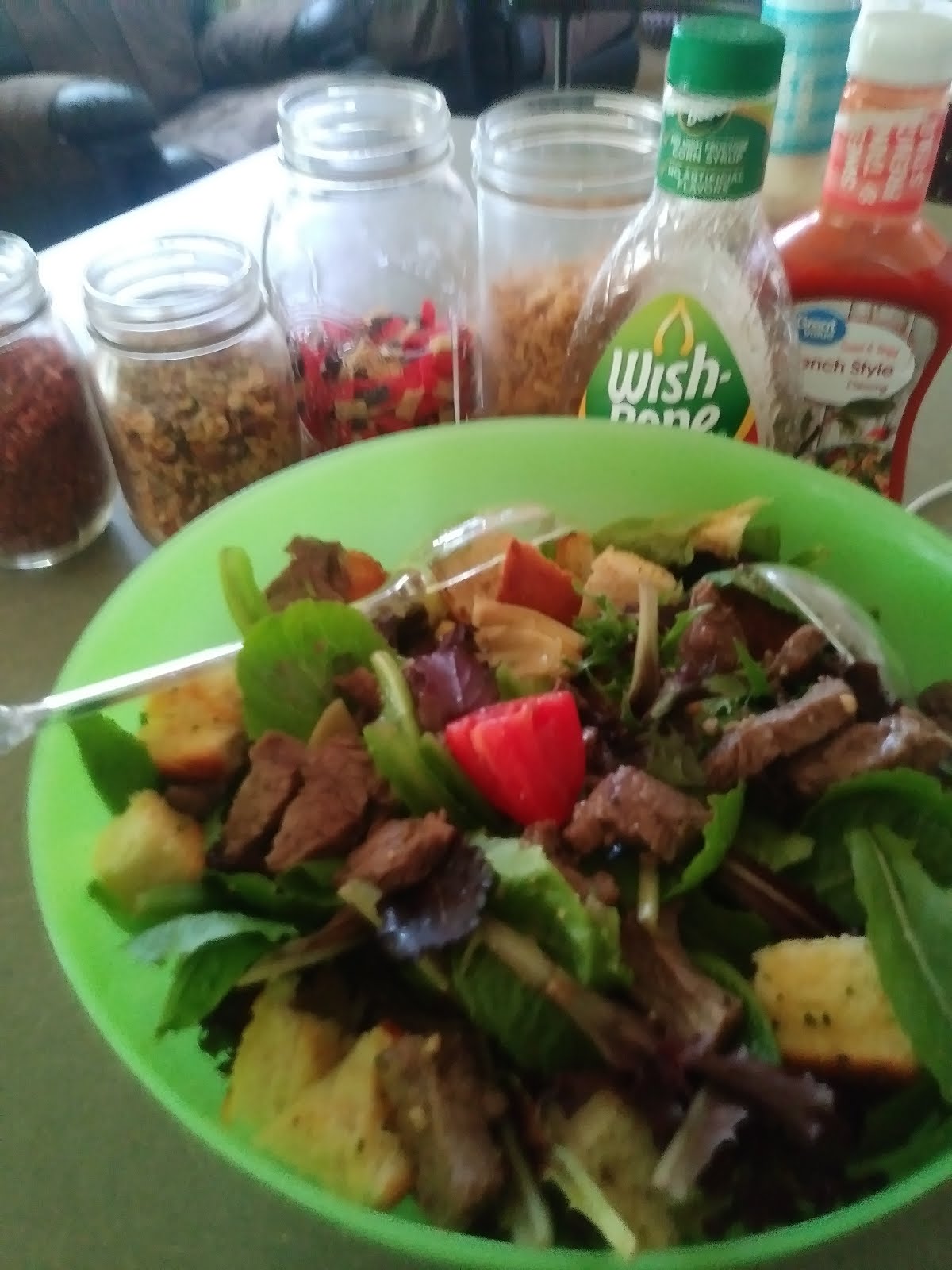 Today's recipe is really easy, but so very good and filling, and full of color and the best part if you don't something I put in you can take it out and create your own with your favorite vegetable.
1 8oz hanger steak, rub both sides with Montreal steak seasoning and let sit 30 minutes
6 cups Baby romaine lettuce
1 carrot, peeled and grated
1 small zucchini, diced
1 4oz jar artichoke quarters, drained
1/2 cup kalamata olives, left whole, and no pits
1/2 pint of grape tomatoes
1/2 red onion, diced
3 slices of frozen garlic bead
Assemble all of the vegetables into a big bowl, and toss. Toast your garlic bread in the oven or while you are grilling your steak you can grill the garlic bread at the same time and you want to grill it until it is toasted on both sides.
Once your meat has been sitting with rub on it at room temperature for 30 minutes, you are ready to cook it. ( I choose a hanger steak because it was on sale, good quality piece of meat and easy to cook). You can either grill your steak and cook it until your desired degree of doneness ( for a medium grill it over medium hot coals for 3-4 minutes per side), pull off the grill and let it sit for at least 5 minutes to allow the juices to redistribute through the steak, and then cut the steak into bite size pieces, or you can pre-cut the steak into pieces and saute it. Do the same thing with your garlic bread, this will be your fresh homemade croutons instead of using day old bread that you would cut up and toss into the salad.
Now basically your salad is ready to go. I don't pre-toss mine with a dressing because I have so many picky eaters in my house, and I also put out bacon bits, french fried onion strips, crispy salad toppings and tortilla strips if anyone wants to top there salad off with these items. The one thing that I love in this salad is garbanzo beans but I am the only one who likes them so they did not get added. But this is what I mean that you can customize this salad to anyway that you like.
It definitely makes a whole meal and is very healthy, colorful, and tasty to eat. Plus you can prep it all ahead of time put in the fridge and pull it out when you are ready to eat it.
So sit back relax and enjoy your nice summer day with a healthy, satisfying salad.

Natilie Cavnar is a cooking fanatic who loves to try new recipes, and create some of her own, ask her what you want at thenormalchef@gmail.com.
---