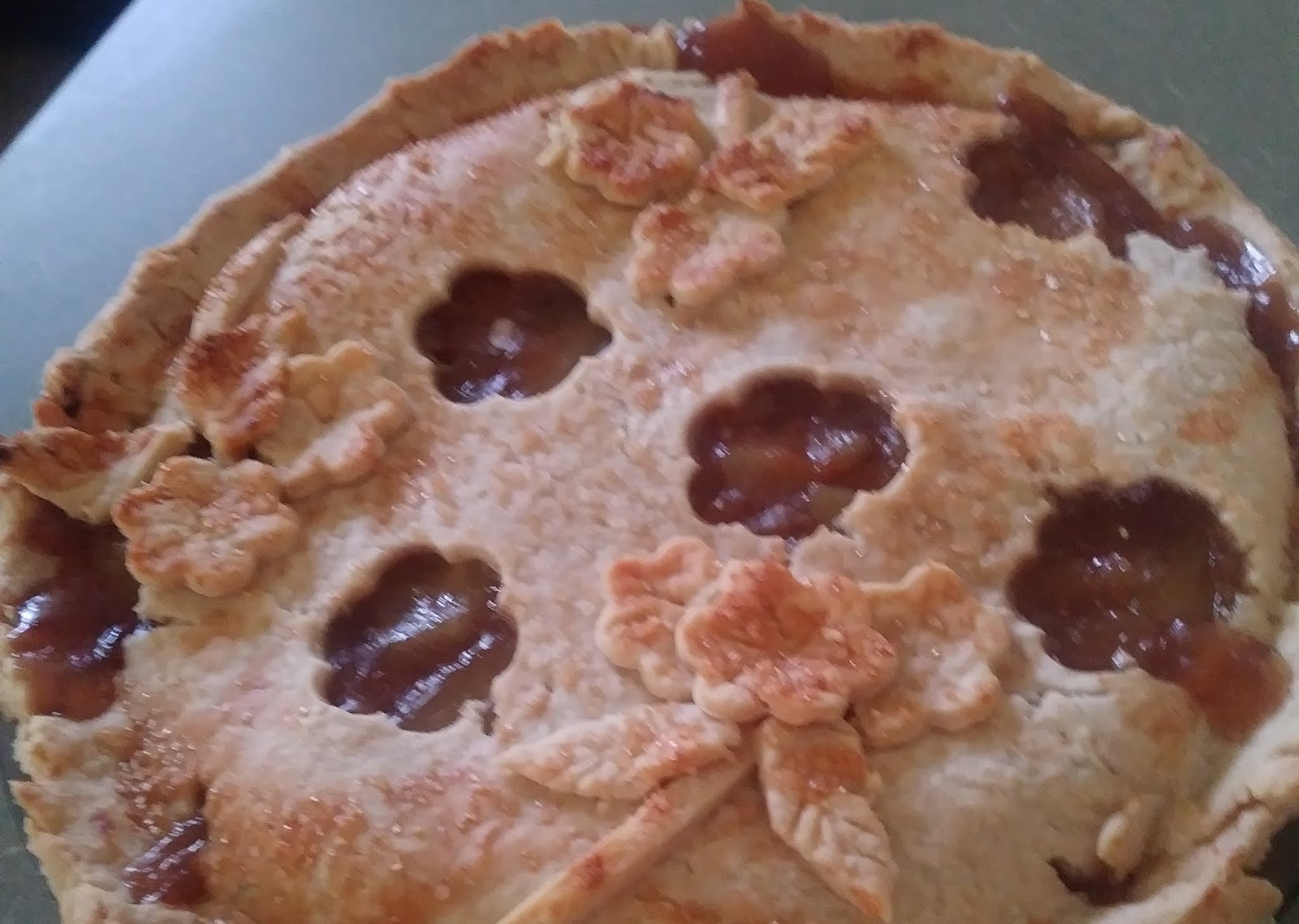 Well we made it through another 4th of July holiday and I don't know about all of you but I am already looking forward to the fall as that is my favorite season. SO I decided to make a pie for this weeks article and what I really want to emphasis is the basic pie crust recipe that I made not so much the filling. This recipes was my grandmas and I have tweaked it just a little over the years, there are several different types of pie crust recipes out there and everyone has to pick the one that is right for you.

The reason that I like this one so much is that you can make it sweet or savory with just a couple of different changes. Some people swear by putting vinegar in there's, others will tell you, that you have to use pastry flour or a combination of different types of flour, but in all honesty the key is not to overwork the dough because that is what will give you a tough dough. Once your dough is made give it a chance to literally chill and relax for about 30 minutes in the refrigerator before you attempt to roll it out.
Pie Crust, for a sweet application.
For a double crusted pie:
3c of all purpose flour, not packed, just scoop into your measure and level it off
1/3c vegetable shortening
2/3c unsalted butter, cold and cut into cubes
1/4c plus or more ice cold water
1T granulated sugar
Now I don't use a food processor or any fancy electronics to make my pie crust, you can if you want to, just be careful not to over mix it. The first thing that you do is measure out your flour into the bowl and then add in you cubed cold butter, and shortening and cut them into the flour, ( what that means is that you can take a pastry cutter, a fork, or even 2 knives and break the fats into the flour, if you choose to use a fork you are literally just pressing and stirring in the fat until you get little crumbs, the same with the pastry cutter, if you are using the knives you are using the knives and slicing through the fat with both knives at the same time, just in opposite directions) until all the fat is broken down into pea size pieces. Then you add your sugar if you making a sweet pie crust, and finally the addition of your cold water, you want to add a little at a time so as to get your dough to form a ball, you want the dough to just come together, take it and separate it into 2 balls, flatten them into round discs, ( this will help you to maintain that round shape as you roll them out later) and wrap them in saran wrap and refrigerate them for 30 minutes, before you roll them out.

When the time comes to roll them out pull one disc out at a time sprinkle your surface and roll the dough out, remember to keep turning the dough as you roll to maintain a round crust, you want your pie crust to exceed the rim of the pan by 1″ all the way around. After your crust is rolled to your desired thickness roll it up on your rolling pin and roll it into your pie crust, and then push it into the edges, next add your filling do the exact same thing with the top crust, remembering to cut in slits or decorative holes to allow steam to vent out the pie.

I made an apple pie and that required 450 oven for the first 15 minutes, and then 350 oven( which will be your normal baking temperature) for an additional 40 minutes until it was golden brown. Remove from the oven and let it cool and set until ready to serve.

**** For a more savory crust, omit the sugar in the dough, use 2/3 c shortening and 1/3c salted cold butter, and if you like you can add to your pie crust finely sliced green onion, toasted sesame seeds, or poppy seeds, or depending on what you are using it for a specific spice just to give it extra flavor, I really like to add finely sliced green onions and toasted sesame seeds for a quiche crust.

Give the recipe a try and don't be nervous about trying it, Any questions please feel free to email. Have a great pie day.

Natilie Cavnar is a cooking fanatic who loves to try new recipes, and create some of her own, ask her what you want at thenormalchef@gmail.com.
---