UNIVERSITY AT BUFFALO ATHLETICS
---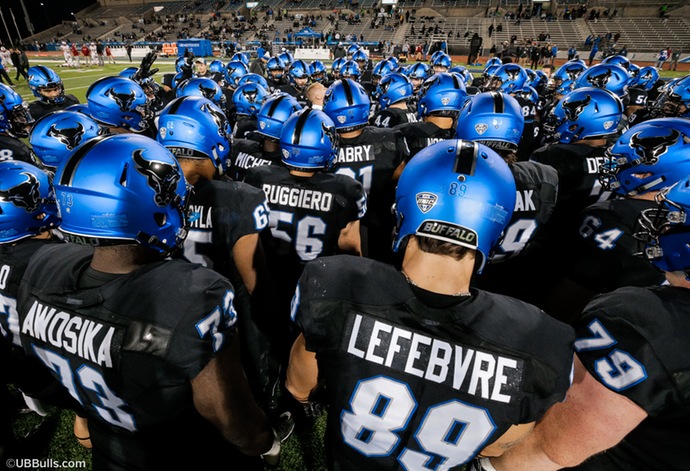 Buffalo (10-2, 7-1 MAC) vs. Northern Illinois (7-5, 6-2 MAC)
November 30, 2018
Ford Field
– 7:00 pm
Buffalo – ESPN 1520
Rochester – Fox Sports 1280
Nationally – IMG

Storylines
• The Bulls are playing in the MAC Championship game for the second time in school history. The Bulls defeated Ball State, 42-24, to win the 2008 MAC title.
• Buffalo's 10 wins are the most in school history.
• The Bulls finished 7-1 in MAC play. It is their best record since joining the conference in 1999. UB's previous best MAC record was 6-2 in 2013.
• Northern Illinois is the only Mid-American Conference opponent Buffalo has never beaten since joining the league in 1999. The Bulls are 0-10 against the Huskies as MAC members. UB trails the overall series, 11-1, with its lone win coming in 1968.
• The Bulls are playing in a dome for the first time since the 2009 International Bowl in Toronto's Roger's Centre on Jan. 3, 2009.
• Tyree Jackson's next touchdown pass will be his 26th of the season which would move him into solo second place in school history for touchdown passes in a season, breaking the tie with Drew Willy (2008). Joe Licata holds the school record with 29 in 2014.
• Jaret Patterson is 44 yards shy of UB's freshman rushing record. Aaron Leeper set the record of 917 yards in 2002.
• With 423 points on the season, Buffalo is one point shy of the school record for points scored in a season. The Bulls scored 424 points over 14 games in 2008.
• The Bulls are 58 yards shy of breaking the single-season rushing school record. UB has rushed for 2,406 yards on the year. The school record is 2,463 set back in 1998.
• The Bulls have won 13 of their last 15 games dating back to last season.
Bulls and Huskies Tangle for Mid-American Conference Crown
The University at Buffalo football team will face off against Northern Illinois at Ford Field in the Mid-American Conference Championship game on Friday. The Bulls finished the regular season 10-2 overall, 7-1 in the MAC and are coming off a 44-14 win at Bowling Green last Friday. Running back Jaret Patterson rushed for 88 yards and two touchdowns to lead the Bulls.
Northern Illinois finished the regular season 7-5 overall, 6-2 in the MAC and is coming off a 28-21 loss at Western Michigan last Tuesday. The Huskies are led by defensive end Sutton Smith who has 21 tackles for loss and 13 sacks on the season.
Northern Illinois leads the all-time series, 11-1. The Huskies won the last meeting, 14-13, at UB Stadium last season.

Returning to the MAC Championship 10 Years Later
Buffalo will play in the MAC Championship game for the second time in school history when it faces off against Northern Illinois on Friday.
It has been 10 years since the Bulls won the 2008 MAC Championship – UB's first and only football conference title. After a 7-5 regular season, the Bulls stunned 12th-ranked Ball State, 42-24, in the title game. Buffalo went on to play Connecticut in the International Bowl – its first-ever bowl game.

Pure Michigan
It will be a homecoming for a number of key members of the Buffalo football team. Eight members of the Bulls hail from Michigan and most are from the Detroit area.

Detroit area natives include starting wide receiver K.J. Osborn, starting tight end Tyler Mabry, starting defensive end Chuck Harris, starting cornerback Cameron Lewis and starting punter Evan Finegan.

In addition, quarterback Tyree Jackson is a native of western Michigan. As a senior in high school, he led his Mona Shores team to its first ever state championship game appearance in Ford Field where they fell to De La Salle Collegiate.

Gold Rush
Through 12 games the Bulls have already broken the school record for rushing touchdowns in a season. Buffalo has scored 32 rushing touchdowns on the year, shattering the previous record of 27 set back in 2008 (over 14 games). Jaret Patterson leads the team with 12 touchdowns, Kevin Marks has 11, Tyree Jackson has seven and Emmanuel Reed and Theo Anderson each have one.

Setting the Tone
The Bulls have scored touchdowns on their first or second possession in eight of 12 games this season. In addition, Buffalo has scored first-quarter points in all but one game this year (Toledo). The Bulls are averaging 10.8 points in the opening quarter of games and have outscored their opponents 130-58 in the first quarter this season.

Scoring Pace
The Bulls are on a pace for their highest-scoring season in school history. Through 12 games, Buffalo has scored 423 points, one point shy of the school record of 424 set in 2008 over 14 games. In addition, UB has scored a school-record 58 touchdowns on the year breaking the previous record of 55 also set in 2008.

Big Play Bulls
The Bulls have made a habit of creating big plays this season. In fact, UB has had a play of at least 44 yards in 10 straight games. They have had touchdown plays of 70+ yards in four different games.

Serve and Protect
The UB offensive line has done a tremendous job this season. The Bulls have only allowed eight sacks on the year, easily a low for a single season as a FBS program. The previous low for a season was 16 in 2014 and 2015. Buffalo uncharacteristically allowed five sacks against Toledo and two against Miami (OH). The Bulls have not allowed a sack in nine games this season.

Hodge Ball
Khalil Hodge has 130 tackles on the season, making him just the second player in school history to have three seasons of 100 tackles or more (Davonte Shannon, 2007-10, was the other). He is the first player in school history to post three straight seasons of 100+ tackles.
Currently ranked 16th in the nation in tackles, Hodge has been in the national rankings since arriving on campus in 2016. He ranked eighth in the nation in tackles following the 2016 season and second in the nation in tackles after last season.
With 406 tackles, Hodge is just the fourth player in school history to register 400 tackles. He is the first player in school history to reach the landmark number in only three seasons. He currently ranks third in school history in career tackles.
Hodge has been named the MAC East Defensive Player of the Week three times this. Former All-American Khalil Mack is the only other UB player to win MAC Defensive Player of the Week honors three times in the same season.
Using His Legs
Quarterback Tyree Jackson is using his legs more in recent games. Prior to UB's game at Central Michigan on Oct. 6, Jackson ran the ball three times for eight yards and no scores over the previous nine games. Over the last six games, the junior signal-caller has carried the ball 36 times for 101 yards and seven touchdowns. In Buffalo's win over Miami (OH), he became the first quarterback in the Bulls' FBS era (since 1999) to score three rushing touchdowns in a single game. Cliff Scott was the last UB quarterback with three rushing touchdowns against Maine in 1993.

Not Standing Patt
Jaret Patterson rushed for a career-high 187 yards and two touchdowns against Kent State. He did so in only the first half and on only 18 carries (10.4 ypc). It was the most rushing yards in a game by a freshman running back in school history.
Patterson has rushed for 874 yards and 12 touchdowns on the year. He is 44 yards shy of the school record for rushing yards by a freshman in a season. Aaron Leeper holds the record with 917 yards set in 2002. In addition, Patterson's 12 rushing touchdowns are the most ever by a UB freshman and is four shy of the single season record held by James Starks (2008).

Record-Breaking Night for AJ
Anthony Johnson had a record-breaking night in the Bulls' 51-42 win over Miami (OH). The senior receiver had eight catches for a school-record 238 yards against the RedHawks. He broke a 37-year-old record of 218 receiving yards set by Joe D'Amico against Cortland in 1981 when the Bulls were a Division III program.
Johnson has 23 touchdown catches over 23 career games. He is just the third player in school history with 20+ touchdowns in a career, joining Alex Neutz (2010-13) who had 31 and Naaman Roosevelt (2006-09) who had 28. Johnson reached the 20-touchdown plateau faster than any player in school history, doing so in just 20 games.

T3
Quarterback Tyree Jackson is enjoying the best season of his career, having already thrown 25 touchdowns, 13 more than he did all of last season. He is tied for second in school history for single-season passing touchdowns, just four shy of the single-season mark.
He has thrown for 6,473 yards in his career, becoming just the fifth quarterback in school history to throw for 6,000 yards.

He has been named the Mid-American Conference East Division Offensive Player of the Week three times this season. He is the first player in school history to win the award three times in a single season.

Having thrown for 25 touchdowns and run for seven scores, Jackson's 32 total touchdowns are a school record, breaking Joe Licata's mark of 31 set in 2014.

Jackson is on the watch lists for the Davey O'Brien Award and Johnny Unitas Golden Arm Award.

Evan Almighty
Redshirt-freshman Evan Finegan has had a solid season in his first year as the Bulls starting punter. Finegan is averaging 41.8 yards per punt. The single-season school record for punt average is 41.6 set by Ben Woods in 2007.

Sack Lunch
The Bulls have done a great job getting to the quarterback this season. UB already has 30 sacks on the year, 11 more than all of last season. It is the most sacks since 2013 when UB had 38. The Bulls have been especially effective rushing the edge as defensive ends Chuck Harris (6), Taylor Riggins (5), Myles Nicholas (3) and Malcolm Koonce (3) lead the team in sacks.

The Bulls have registered at least one sack in every game this season.

Os-born to Run
K.J. Osborn is enjoying the best season of his career. He leads the Bulls with 46 catches for 769 yards and six touchdowns. He has already surpassed his receiving yardage total from his first two seasons combined (598).

He was recently added to the Biletnikoff Watch List – an award given to the nation's top receiver.

Osborn had one of the best games of his career against Eastern Michigan. The junior receiver had seven receptions for 188 yards and three touchdowns in the Bulls' 35-28 win. Two of Osborn's three touchdowns were 70+ yards (70, 75). He was rewarded by being named the MAC East Division Offensive Player of the Week.

Take Your Pick
The Bulls are tied for second in the MAC with 13 interceptions, their most since having 13 in 2015. Buffalo had a season-best four picks at Central Michigan. It was the most in a game since picking off four passes against Ohio in 2015.
Osborn ranks second fourth in the MAC in punt return average. He currently ranks second in school history in single season punt return yardage. Drew Haddad (1998) holds the school record with 410 return yards in 1998.

Lance Wins A Lot
UB's win over Miami (OH) on Oct. 30 was the 21st of head coach Lance Leipold's career at Buffalo. It gave him the most wins by a head coach in the Bulls' FBS era (since 1999), surpassing Turner Gill and Jeff Quinn who both won 20 games. Over 45 games, Leipold became the second fastest coach to reach 21 wins in school history. Only Dick Offenhamer got there quicker, doing it in 34 games. Leipold currently holds a 23-25 record in his fourth season with the Bulls.

Let's Go Bowling
With a 10-2 record, the Bulls are bowl eligible for the fourth time in school history. Buffalo was also bowl eligible in 2008, 2013 and 2017. The Bulls have won six or more games in consecutive seasons for the first time since the 1983 and 1984 campaigns, when they won eight and six games, respectively.

Long Way Home
The Bulls have been using big plays to find the endzone this season. Buffalo has recorded 18 touchdowns of at least 25 yards. The Bulls have scored touchdowns of 25, 27, 29, 32, 32, 33, 34, 37, 40, 42, 42, 53, 53, 64, 70, 70, 75 and 75 yards on the year.

The Kids Are Alright
While many will credit the Bulls' record to their seasoned veterans, you can't discredit the play of the youngsters. 27 of Buffalo's 55 touchdowns on the season have been scored by freshmen. A freshman has scored a touchdown in every game this season.
Buffalo's top two leading rushers are freshmen. True freshman Jaret Patterson leads the Bulls with 874 yards and 12 touchdowns. Redshirt-freshmen Kevin Marks has rushed for 733 yards and 11 touchdowns.
Redshirt-freshman receiver Charlie Jones has 17 catches for 387 yards (22.8 ypc) and has three touchdown receptions.
Bulls Make History in PiscatawayBuffalo defeated Rutgers, 42-13, on Sept. 22 at HighPoint.com Stadium for its first-ever win over a team from the Big Ten Conference. The Bulls were 0-7 against Big Ten opponents prior to Saturday's win. It was also UB's first win over an opponent from a Power 5 conference. Buffalo's win over Rutgers was one of the largest by a MAC school over a Big Ten opponent in conference history.

Largest point differential in MAC win over Big 10 Opponent:
31 points – Toledo 38-7 win over Minnesota (8/30/01)
31 points – NIU 55-24 win at Purdue on (9/28/13)
30 points – Miami 44-14 win at Northwestern (9/13/03)
29 points – Buffalo 42-13 win at Rutgers on (9/22/18)

It's All RelativeThe UB football team features a pair of players related to two of the top five picks in the 2014 NFL Draft. Senior wide receiver Anthony Johnson is the cousin of top pick Jadeveon Clowney. Junior defensive end Ledarius Mack is the younger brother of former UB All-American and fifth pick Khalil Mack.
On The AirwavesAgain this season, University at Buffalo football can be heard locally on ESPN 1520, a 50,000-watt station with one of the strongest signals in the nation. The Bulls can also be heard on 1280 AM in Rochester.
Calling all the play-by-play action of Bulls football for his 19th year, and 11th consecutive, will be Paul Peck. Scott Wilson is back for his second season as analyst. Brad Riter also returns as game host.
Again this season, the UB Football postgame show will take place at Santora's on Millersport with host Bob Gaughan.
Peck will host the UB Football Insider with Lance Leipold on Monday nights at 5:00 pm. The show air on ESPN 1520 and will be taped at the Santora's Millersport location on Mondays at noon.
---