The Buffalo Bills' social media team has done it again — with a little help from some players themselves.
The Bills released their 2022 regular season schedule this evening at the conclusion of a David Lynch-style nonsensical video featuring Josh Allen, Dawson Knox, Isaiah McKenzie, Tim Settle, Tommy Sweeney and Gabriel Davis.
That schedule confirms that the Bills will open the 2022 regular season schedule playing against defending Super Bowl champs, the Los Angeles Rams on the NFL's opening night, Sept. 8 — at 8:20 p.m. It is just the first of several prime-time appearances for the Bills.
Week 2 sees the Bills hosting the Tennessee Titans at Highmark Stadium on Monday Night Football on Sept. 19 with a 7:15 p.m. kickoff. Week 8 sees them hosting the Green Bay Packers for Sunday Night Football on Oct. 30 with another 8:20 p.m. kickoff. Four weeks later — on Nov. 24 — they'll play in Detroit against the Detroit Lions on Thanksgiving at 12:30 p.m. The very next week, they'll play another Thursday game, this time against the New England Patriots at 8:15 p.m. Christmas Eve — a Saturday — will bring teh Bills to Chicago for a 1 p.m. game. The Bills' last guaranteed prime-time matchup of the season will be Jan. 2, 2023 when the Bills visit Cincinnati to play against the Bengals in a Monday Night Football matchup (8:30 p.m. start).
In addition to all the seven already-mentioned non-Sunday-afternoon games, the Bills have two flex games scheduled — in weeks 15 and 18. Those home games will be played against the Miami Dolphins and New England Patriots respectively.
The full schedule follows in handy graphic format.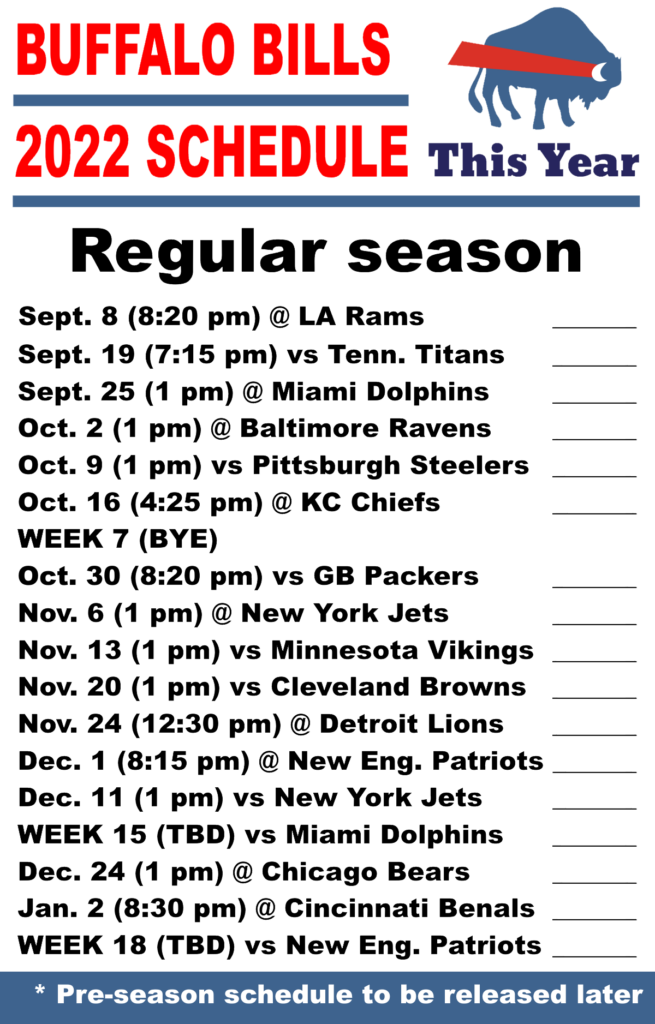 ---