Highmark Blue Cross Blue Shield of Western New York Blue Fund has opened its 2021 grant cycle, and is now accepting applications online through April 16, 2021 for grants to organizations and initiatives that align with at least one of Blue Fund's key health areas that support Western New York's greatest needs. This includes behavioral health, cardiovascular health, health care workforce development and healthy children.
As part of its fourth annual Blue Fund grant cycle, Highmark Blue Cross Blue Shield Blue Fund will award more than $2 million in grants this Fall. Independent of Blue Fund, the local health plan is developing a new, laser-focused grant program to address racial and health inequities that is set to launch later this Spring. The new fund will complement and enhance the company's current giving strategy, which sees more than $6 million in annual investments through Blue Fund grants, sponsorships and corporate partnerships across the region.
Since the not-for-profit health plan launched Blue Fund in July 2018, it has awarded more than $6.9 million to organizations and initiatives that work collaboratively to address key health areas and demonstrate enhanced measurable outcomes in the Western New York Community. In 2020, the traditional Blue Fund grant cycle pivoted to support the most critical and immediate community needs as a result of the COVID-19 pandemic. This included a $1 million grant to the WNY COVID-19 Community Response Fund, and $575,000 to several organizations, including $100,000 in inaugural microgrants across the plan's eight county footprint.
"We're eager to build on our company's long-legacy of giving back by providing significant and necessary funding to organizations that are doing meaningful work in all corners of our community," said Julie R. Snyder, Vice President, Community Affairs for Highmark Blue Cross Blue Shield of Western New York. "This year's Blue Fund grants will further our company's reach in the Western New York region during this time of great need, especially local nonprofits who have felt a significant impact from the pandemic."
Submitting a brief letter of intent (LOI) using Blue Fund's online application system is the required first step in the grant-making process. Selected applicants will then be invited to submit a full application, with funding decisions announced in the fall of 2021. Blue Fund will consider requests for $100,000 to $300,000 grants from not-for-profit organizations in the eight counties of Western New York for initiatives that are ready to implement and demonstrate measurable community outcomes.
Organizations interested in applying are encouraged to review program guidelines and focus areas as they may have changed from previous years. Visit bcbswny.com/bluefund to learn more and to submit a letter of intent online for the 2021 grant cycle.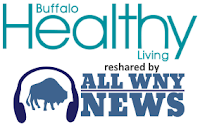 ---