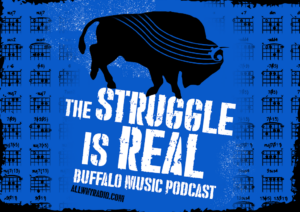 On Episode #55, Ryan flies solo! Ryan talks about Trapt (briefly), WNYMusic.com, COVID-19 and walking away from a job at The Stage. He also plays music from Dredneks, Danimal Cannon, Anchor, Real Movement, The Chris Squier Band and Christina Stock.
0:00 – Intro
2:26 – Ryan rages about COVIDiots.
5:32 – MUSIC – "Playing With Dynamite" by Dredneks
8:39 – The Epic Tale of Ryan & The Stage
28:01 – MUSIC – "Roots" by Danimal Cannon (live Zoom performance on Zoom)
32:30 – Fuck Trapt, Zoom charity shows, and WNYMusic.com is coming (editor's note: WNYMusic.com is now live!)
34:07 – WNYMusic.com
35:53 – MUSIC – "DBNR" by Anchor
38:54 – MUSIC – "Hard Look" by Real Movement (*I say this song is from their debut album. It is not, it was recorded during the quarantine)
44:11 – Let's keep the music rolling!
45:47 – MUSIC – "Best Days" by The Chris Squier Band
50:27 – MUSIC – "Nowhere Sounds Nice" by Christina Stock (live Zoom performance)
53:19 – OUTRO – A reminder about internships.
You can find us on Facebook at facebook.com/TheStruggleIsRealPodcast and on Twitter @SIRpodcastNY.
---

All WNY is made possible thanks to coffee and sleep deprivation.
Buy us a cup? (of coffee, we can handle the sleep deprivation ourselves)