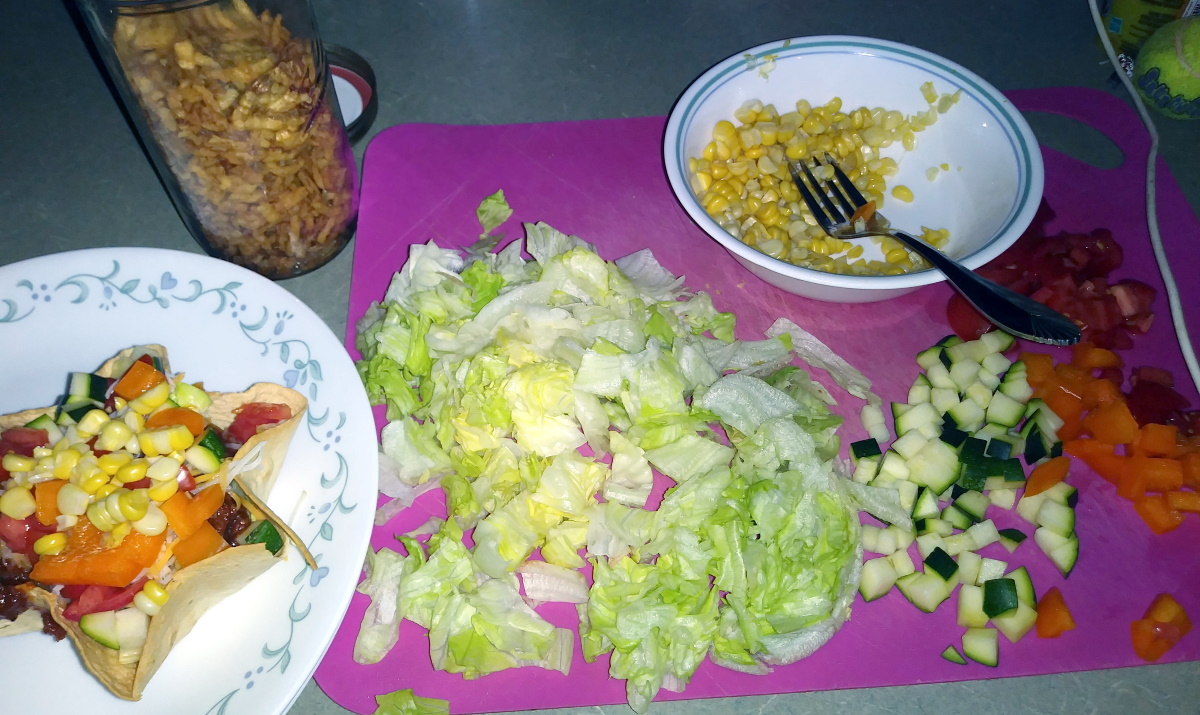 It is said that one of the best ways to get your nutrition guide lines met is to get your colors in with your food and one of the best ways to do that is with a nice salad.
The other day that's exactly what we did and it was fantastic. We had a salad in a flour tortilla bowl, which I baked in the oven at 350 for about 10 minutes until golden brown. No oil used at all, I softened the shells in the microwave for about 20 seconds and then pressed them into the mold and then in they went.
1/2 head of iceberg lettuce, chopped
1 tomato, chopped I used a roma
1/2 of a pepper, which ever color you want
1/2 zucchini, small diced
1 cup shredded cheese, any flavor
1/4 cup pulled pork per salad
1 fresh ear of corn, shucked and kernals cut off.
Crispy fried onions
Now all you have to do is build your salad and enjoy, this is enough to make 4 nice size salads. Remember you can customize your salad any way you like if you like different vegetables use them instead, but most importantly get your colors in.
Tip for the day when shucking corn, place your ears in the microwave for 4 minutes for 2 ears, cut the bottom off and grab the silk and husk and it just pulls right off.
Enjoy everyone and have a great day.

Natilie Cavnar is a cooking fanatic who loves to try new recipes, and create some of her own, ask her what you want at thenormalchef@gmail.com.
---

All WNY is made possible thanks to coffee and sleep deprivation.
Buy us a cup? (of coffee, we can handle the sleep deprivation ourselves)