---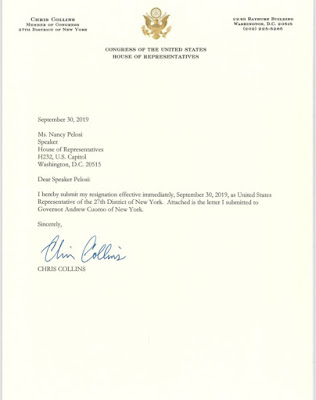 Embattled Western New York-area Congressman Chris Collins resigned is seat today, via a letter to House Speaker Nancy Pelosi.
In the letter, Collins says the resignation is effective immediately. It also states that he informed Gov. Andrew Cuomo of his decision (in a nearly identical letter).
Collins has been under investigation for insider trading, a charge which he has refuted. However, several media outlets – including the Washington Post – claim that he will plead guilty to insider trading in court on Tuesday.
Several Republicans and at least one Democrat have already shown interest in the 27th Congressional seat.
Whether a special election will be held remains to be seen.
---