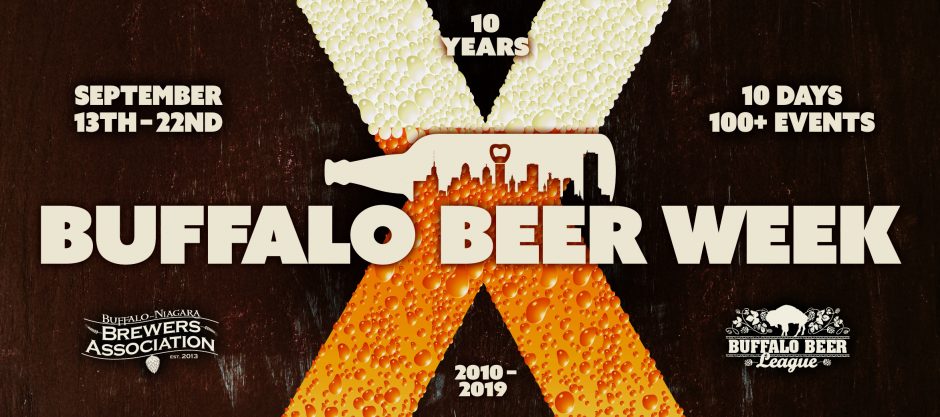 ---


The 10th Annual Buffalo Beer Week starts Friday, running through Sept. 22.


Okay, so it's actually a Buffalo Beer "10-Days." But if you're going to base a week around beer, wouldn't you want it to last 10 days?


This year's lineup features hundreds of events, including over a dozen featured events, starting with the Buffalo Beer Week Opening Gala from 5-9 p.m. Friday at Flying Bison Brewing, which will feature live music, food trucks and beer from all of your favorite local breweries. Tickets are $20 and include a complimentary tasting glass. The theme this year is 'ten years of craft beer.'


Other featured events include:


Pizza Plant Buffalo IPA Palooza
Sat, Sept. 14 12-4pm Pizza Plant Canalside
All of your favorite local breweries are sending their world-class IPAs over to Canalside for a massive hop blowout! Free entry. A la carte pints.
Buffalo Beer League Bash
Sat, Sept. 14 6-9pm Pizza Plant Transit
Join the Buffalo Beer League, literally, as reduced BBL memberships will be for sale. BBL members will receive $10 off Pizza Plant draft cards. Live music, beer and can specials. Free entry.
Farm to Pint & Plate Dinner
Mon, Sept. 16 6-9pm Hotel Henry
Join 100 Acres and local breweries and celebrate Beer Week with a true Farm to Plate dinner featuring four food stations each with a curated beer pairing. Breweries include 42 North, Froth, Thin Man and Blackbird Cider. $55. In person and hotelhenry.com/buffalo-beer-week.
Buffalo Brewers Symposium
Tues, Sept. 17 6-9pm Buffalo Cider Hall
A panel discussion on the history and future of brewing in Buffalo featuring an expert panel consisting of Willard Brooks (BNBA), Matt Kahn (Big Ditch), Mike Shatzel (Thin Man), Scott Donovan (Blackbird), Tracy Jong, and Karen Fashana (Visit Buffalo Niagara). Free entry.
Buffalo Beer Goddesses 7th Anniversary Party
Thur Sept 19 7-10PM, Mr Goodbar
Member price $5. General admission $10 includes one pint, food, and door prizes.
Steak, Cigars, Beer, & Whiskey
Wed Sept 18 5-8PM, Rusty Nickel Brewing Co.
A unique dinner and tasting experience
Funky Fruity Friday
Fri, Sept. 20 5pm Coles & Mr. Goodbar
Are you a sour beer lover? This day is perfect for you! Enjoy a selection of session, fruity and barrel aged sours at two great bars in honor of National Sour Beer Day! Free entry. A la carte pints.
Lewiston Pub Crawl
Fri, Sept. 20 5pm Brewed & Bottled
Celebrate the 10th Anniversary Buffalo Beer Week in the beautiful Village of Lewiston. Start at Brewed & Bottled Craft Beer Shop, where you'll taste beer and learn about history of craft beer in the area. Sample beers at select village establishments from there. Pay as you go.
Ballpark Brew Bash
Sat, Sept. 21 3-7pm Sahlen Field
Consumer's Beverages presents the 2019 Ballpark Brew Bash, an evening of craft beer tasting and fun! Check out your favorite breweries from near and far, sample their latest releases, and get to know the people who make the brews. Tickets available at all Consumer's locations, Buffalo Bisons Ticket Office, and sat Tickets.com.
Borderland
Sat-Sun, Sept. 21-22 Knox Farm State Park
A two-day music and arts festival featuring over 22 bands, local craft beer and cider, culture, artisans and food at Knox Farm State Park in East Aurora. Tickets at BorderlandFestival.com.
Happy Ending Taproom Brunches
Sun, Sept. 22, 11am-1pm Various Taprooms
Spend the last day of Beer Week with happiest ending you could ever imagine, brunch at your local taproom. Contact each location directly for details. Buffalobeerweek.com for details.
---