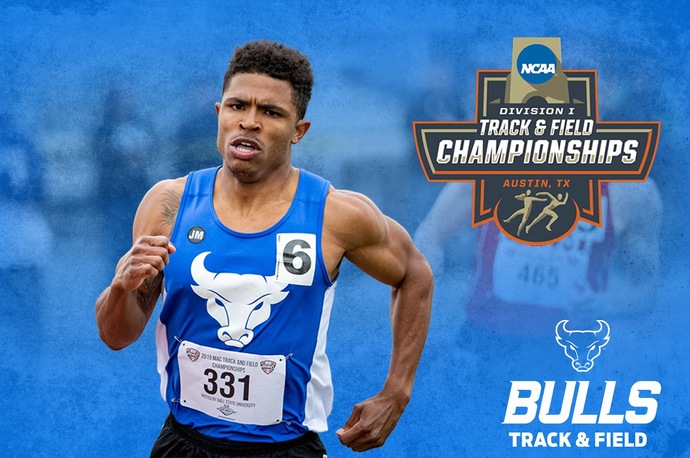 UNIVERSITY AT BUFFALO ATHLETICS
---


AUSTIN, TEXAS – Buffalo middle-distance runner Leon Atkins will represent the University at Buffalo track & field team as he is slated to compete in the 800m race at the 2019 NCAA Outdoor Track & Field Championships on Wednesday night at the University of Texas at Austin.
Atkins, who holds the third fastest 800m time in UB School History, is set to blaze history for the Bulls, as the junior will become the first male student-athlete from Buffalo to compete in a track event at the NCAA Outdoor Championships. Additionally, Atkins will be the first student-athlete to represent Buffalo at the NCAA Championships since former National Champion Jon Jones in 2015. Atkins punched his ticket to Austin just two weeks ago, qualifying the at the NCAA East Preliminary Rounds in Jacksonville, Fla. with the 12th fastest time in an extremely competitive field of 48 runners from all over the eastern United States, crossing the line in a time of 1:49.87.
This week's events will cap off what has been a record-setting year for Atkins, who earlier this year dropped three seconds off of his previous personal-best in the 800m as he claimed the MAC Indoor tittle this past February. More recently, Atkins earned the silver medal with a second place finish last month at the MAC Outdoor Championships, crossing the line with a time of 1:49.91.
The junior runner, who hails from Auburn, N.Y., will compete on Wednesday night at 9:14 p.m. EST and is slated to run in heat 1, the first of three scheduled semifinal heats. The top two finishers from each heat, as well as the next two fastest times from all three heats, will advance to the final race on Friday, June 7. Set to compete in Atkins' heat is Texas A&M junior Devin Dixon, who currently holds the fastest time in the NCAA in the event with a time of 1:44.76. Also competing in Atkins' heat is Kansas junior Bryce Hoppel who holds the third fastest time in the NCAA with a time of 1:45.87.
Live results will be available throughout the meet here.
The ESPN Networks will carry the championships, with ESPN 2 set to cover running events, including Atkins' race, with coverage starting at 7:30 p.m. EST. Fans may tune into ESPN3 for coverage of field and combined events starting at 3:30 p.m. EST on Wednesday. The final heat of the 800m, which will take place at 9:44 p.m. EST on Friday, June 7, will be aired on ESPN, with coverage beginning at 8:30 p.m. EST.
For more broadcast information, including the entire broadcast schedule, please click here.
---