PRESS RELEASE
---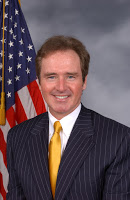 Congressman Brian Higgins (NY-26) joined Congresswoman Julia Brownley (D-CA) in introducing the Veterans' Access to Child Care Act, legislation which would make permanent the VA's Child Care Pilot Program and expand it so that veterans across the nation who are primary caretakers have a convenient, cost-free option for child care when they have VA medical appointments.
"Treating our veterans right means removing barriers to quality care," said Congressman Higgins. "This bill gives parents and grandparents, who have severed this nation, access to child care during their health and mental health appointments. We've seen the success of this model in Western New York since 2011 and I am proud to work with Congresswoman Brownley to extend this service on a permanent basis to all of our veterans."
"The lack of affordable and convenient child care should never be a barrier for veterans trying to access the VA healthcare they've earned and deserve," said Congresswoman Brownley. "This is especially important for the growing population of women veterans, who are more often taking care of young children. I look forward to continuing to work with Rep. Higgins and all of our colleagues to see this important program finally become permanent and nationwide."
In 2011, Congress created a pilot program to provide free child care for qualified veterans using VA healthcare services at a limited number of participating sites around the country. Since then, over 10,000 children have used the program, which has been very popular with the veteran community. Women veterans used the service at a rate four times their population among the veteran community at large, indicating the program is working for the growing population of women veterans and their families. According to a VA Satisfaction Survey of veterans who have used the pilot program, a majority responded that, without the available child care, they would have brought their children to their appointment or cancelled their appointment altogether.
Congress has reauthorized this popular and successful program four times, and unless Congress acts again, it will expire on October 1, 2019. The Veterans' Access to Child Care Act would make the pilot program permanent and expand it to include every VA facility in the nation.
Western New York is home to one of the pilot sites, opening the Kids Korner childcare center at the Buffalo VA Hospital in 2011.
This legislation is supported by Disabled American Veterans, the American Legion, Veterans of Foreign Wars, Paralyzed Veterans of America, AMVETS, Easterseals, and the Fleet Reserve Association.
---

All WNY is made possible thanks to coffee and sleep deprivation.
Buy us a cup? (of coffee, we can handle the sleep deprivation ourselves)