UNIVERSITY AT BUFFALO ATHLETICS
---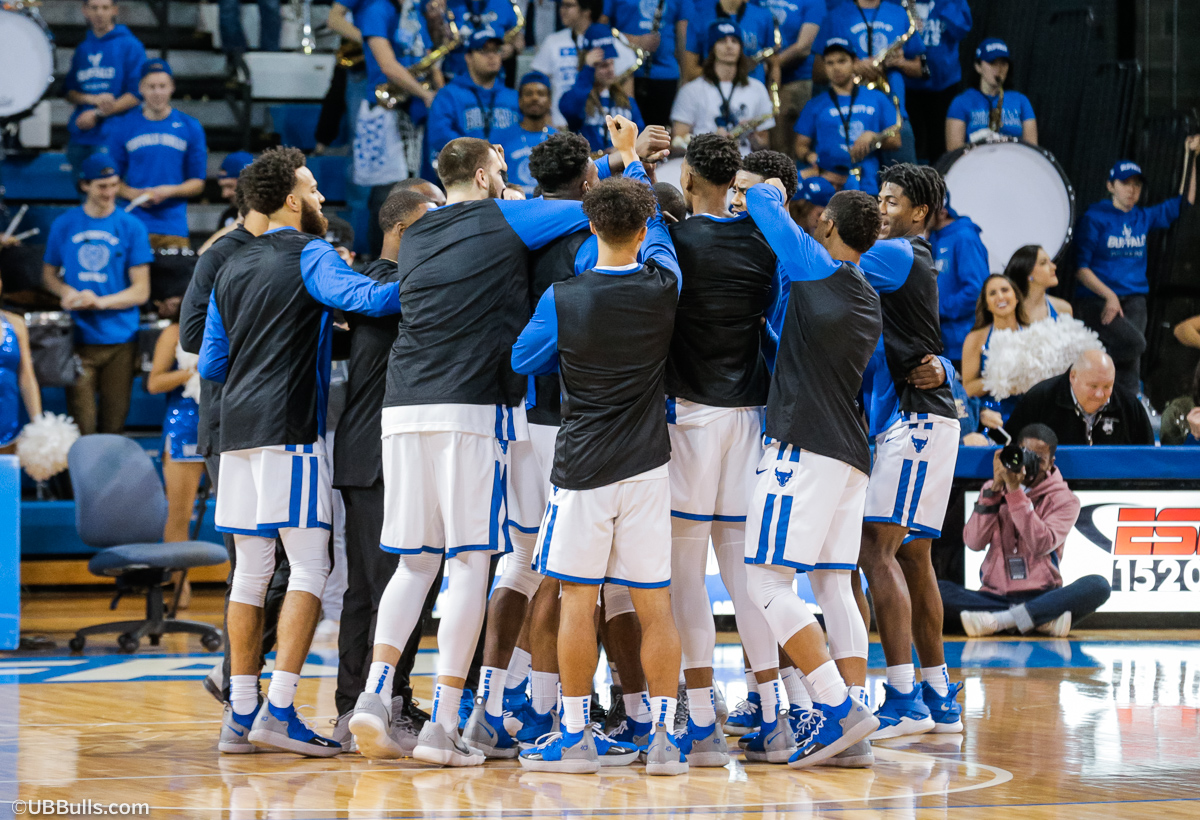 Buffalo vs. St. Francis (PA)
November 6, 2018
Alumni Arena
– 4:00 pm
Radio – ESPN 1520-AM WWKB/TuneIn App
Quick Hits
• The University at Buffalo men's basketball team will officially open their 102nd year of men's basketball on Tuesday when they host St. Francis. The Bulls are 55-46 all-time in season openers and they are 23-12 in home openers since moving into Alumni Arena. Buffalo opened the year with a 97-50 win in their lone exhibition game against Daemen on Oct. 26.
• For the first time in school history, the Bulls received votes in the preseason AP Poll as UB received 14 votes, good for a tie for 37th in the nation. Buffalo is one of just 10 schools nationally receiving AP votes in men's and women's basketball and football.
• Buffalo was the unanimous pick to win the MAC East in the conference preseason poll, receiving all 35 votes from the league's coaches and media members. Only two other conferences had unanimous preseason selections: MAAC (Rider) and Sun Belt (Georgia State). In both cases, those were voted on only by the respective league's head coaches.
• The Bulls became the first team in Mid-American Conference history to have three players honored in the preseason as CJ Massinburg, Nick Perkins, and Jeremy Harris were all named to the preseason All-MAC East Division team. Those three players were also named preseason All-Big 4 First Team selections, with Massinburg being named the preseason Big 4 Player of the Year.
The Opponent
• St. Francis was picked to finish first in the NEC Preseason Coaches' Poll, voted on by the league's head coaches. The Red Flash received eight of the nine first place votes as they are coming off a season last year where they won 18 games, its most since 1990-91 and a 12-6 mark in league play. Senior Jamaal King and junior Keith Braxton were both named preseason all-league.
• St. Francis returns all five starters from last year's team and in all they return 92% of their scoring from last year. Jamaal King averaged 18.2 points per game last year from the Red Flash as he shot 47.3% from the floor and dished out a team-high 108 assists. Keith Braxton added 17.2 points per game, while finishing with a team-high 9.5 rebounds per contest, and also finishing with 102 assists.
• The Red Flash have put forth a competitive non-conference schedule this season that begins with the Bulls on Tuesday night. Following a home game against Morgan State, St. Francis will embark on a three-game road trip that will see them play games against UCLA, North Carolina, and Virginia Tech
• Rob Krimmel completed his sixth season as the Saint Francis head men's basketball coach in 2017-18. He was named the 21st coach in program history on April 19, 2012. He is in his 18th season on the Red Flash bench following a successful playing career at Saint Francis. Krimmel has amassed 79 wins in his first six seasons, ranking fourth in program history. With seven wins next season he will pass Tom McConnell and Bobby Jones for second all-time. A 3-point threat and a two-time ESPN The Magazine Academic All-America selection as a four-year Red Flash player, Krimmel was a three-year starter and two-time team co-captain for the Red Flash. He led the NEC in 3-point field goal percentage (43.5) as a senior in 1999-2000.
Bulls Set To Kickoff 2018-19 Season Against St. Francis
The University at Buffalo men's basketball team will officially kick off their 2018-19 season on Tuesday as the Bulls welcome St. Francis (PA) to Alumni Arena. This will be a battle of two teams that were picked to win their respective leagues as UB received all 35 votes to finish in first place in the MAC East Division, while the Red Flash were picked to win the NEC.
The November 6 game date is the earliest that Buffalo has ever started a season, surpassing the November 7 start in 2007-08. This will also be the second straight season that Buffalo opens the season at home and the third time in the last four year.
Bulls Unanimous Selection To Win MAC East
For the second straight season, the Bulls have been the preseason pick to win the MAC East Division and this season the Bulls were a unanimous selection, getting all 35 first place votes and 210 point. They are the first MAC program since Ball State in 2002 to receive over 200 points. Buffalo also received 25 of the 35 votes to win the MAC Tournament.
Buffalo had three selections on the preseason All-MAC East Team in CJ Massinburg, Nick Perkins, and Jeremy Harris. UB is the first MAC program ever to have three players on the preseason all-league team. All three players were also named preseason All-Big 4 First Team players with Massinburg the preseason selection as the Big 4 Player of the Year.
Last season the Bulls averaged 84.6 points per game, the highest scoring total in school history for a single season. UB scored 80 points in 26 of its 36 games last season, which was tied for the second most 80-point performances with Duke. Villanova was the only team in the country with more 80-point performances at 29.
No other MAC team had more than 16 80-point games last season and that was Central Michigan and Toledo. As for MAC East programs, Buffalo's 26 performances are more than double any team in the division as Ohio was second with 12 80-point games.
During his three seasons as head coach of the Bulls, teams coached by Nate Oats have scored 80 or more points in 54 of his 103 games. The Bulls are 46-8 in those games when scoring at least 80 points.
The Bulls are looking to accomplish something this season that has never been done in Mid-American Conference history as no MAC school has ever won four conference tournament titles in a five-year period. Buffalo became the first MAC school to win three in a four-year period since Kent State did it in 1999, 2001, 2002. The MAC Tournament dates back to the 1979-80 season.
Senior CJ Massinburg begins his senior season within striking distance of becoming UB's all-time leading scorer. Massinburg currently has 1,354 career points, which is ninth in school history and he is just 31 points shy of passing Louis Campbell (1998-02) for eighth place. With a strong senior season, Massinburg could surpass the 2,000-point mark and become Buffalo's all-time leading scorer.
Massinburg currently has 1,354 points, 542 rebounds and 214 assists though three seasons. He one of just four players nationally with at least 1,300 career points, 500 career rebounds, and 200 career assists joining Ethan Happ (Wisconsin), John Konchar (Fort Wayne), and Quinndary Weatherspoon (Mississippi State). Massinburg has played in the fewest amount of games of that group at 95.
Senior Nick Perkins begins his senior season 14th on UB's all-time scoring list with 1,245 points, just 35 shy of Rick Coleman (1987-91) for 13th place. Perkins was named first-team All-MAC last season and he was named the MAC's Sixth Man of the Year for the second straight season. Perkins scored in double figures in 25 straight games last year after returning to the bench. Over the previous two years, Perkins has scored 20 points or more nine times as a reserve, the sixth highest totally nationally.
Perkins was Buffalo's leading scorer in MAC games last season as he averaged 18.2 points per game and 6.6 rebounds per contest. Perkins shot 53.2% from the floor and on two-point attempts only, his field goal percentage was 60%.
Senior Jeremy Harris had a breakout year for the Bulls last season in his first season with the Blue and White. Harris was a second-team All-MAC selection as he averaged 15.5 points per game, including 17.4 points per contest in league games only. Over the 18-game MAC season, Harris led the league in three-point shooting at .463. Harris was one of just 11 players in the nation to shoot over 46% from three in conference games, while attempting over 100 three-pointers. He joins Pat Andree from Lehigh as the only two to do it, while also pulling in over 100 rebounds.
Harris was named to the All-Tournament team at the MAC Tournament after he finished with a career high 27 points in the quarterfinals against Central Michigan. One game later, Harris added 22 points against Kent State in the semifinals, going 5-of-6 from three-point range. He scored 23 points in UB"s NCAA Tournament First Round victory over Arizona, while adding seven rebounds.
One of the most improved players in the entire Mid-American Conference last season was junior point guard Davonta Jordan. After averaging under 3.0 points per game during his freshman season, Jordan averaged 6.5 points per game last year as a sophomore, while adding 144 assists, the most on the team. Through two years, Jordan is the only player in the Mid-American Conference to record 200 career assists over his freshman and sophomore seasons. He is currently UB's active career leader in assists with 224.
Jordan picked up his scoring last year, including his first career 20-point performance, which came in a win at Delaware. Defensively, Jordan was selected to the All-MAC Defensive Team as well.
When healthy, UB's senior guard Dontay Caruthers is one of the top defenders in the Mid-American Conference. Caruthers was named the 2016-17 MAC Defensive Player of the Year, but last season, Caruthers played in just 25 games, missing 11 with a leg injury. When playing, Caruthers averaged 6.7 points per game, including a pair of 20-point performances.
Caruthers scored 23 points and had seven rebounds in Buffalo's win over UAB in the Cayman Islands and he followed that up stateside with 23 points at Niagara. Overall, Caruthers shot .598 from the floor, which was the best of any player on the Bulls that took over 100 shots.
He had a solid postseason for the Bulls, beginning with a career-high eight assists in the MAC quarterfinals win over Central Michigan. He had 11 points in the semifinal win over Kent State and he added seven points and three steals in UB's NCAA Second Round game against Kentucky.
Sophomore Jayvon Graves will look to take the jump from freshman to sophomore season that his teammate Davonta Jordan took last year. Graves played in all 36 games for the Bulls last year off the bench, averaging 5.1 points per game. Graves had a season-high 16 points in a win at Ball State last year, while adding 11 points in his homecoming game at Akron.
One of the most athletic players on the team, Graves showed off his leaping ability at Bulls Madness, winning the Slam Dunk competition. He showed off that athleticism on the defensive end as well last year, leading the Bulls with 29 blocked shots, becoming the shortest UB player to lead his team in blocks since Calvin Betts in 2008-09.
Senior Montell McRae averaged 3.1 points and 2.4 rebounds in his first season with the Bulls after transferring in from South Plains Junior College. McRae played in all 36 games for UB and started five contests early. He had three games where he scored in double figures in points, including a conference road win at Akron, where he finished with 11. He scored nine points on three made three-pointers at Texas A&M last year, keeping the Bulls close against their SEC foe.
After redshirting as a freshman, sophomore Brock Bertram made his debut on the court last year, averaging 1.1 points per game 1.1 rebounds per contest as he saw action in 18 contests, picking up one start. He scored a season-high five points in the regular season finale against Bowling Green.
A high school standout in Apple Valley, MN, Bertram was a finalist for Mr. Basketball in the state of Minnesota as his high school program went 118-7 during his career at Apple Valley High School.
Williams To Show He's Prolific
Fans will get their first chance to watch highly-touted freshman Jeenathan Williams, who will play his first season for the Bulls this year. A Rochester, NY native, Williams spent his senior season at Prolific Prep in Napa Valley, CA where he averaged 15.8 points per game.
Williams has been listed by Rivals.com as the 83rd best recruit in the country and ESPN.com listed him as the sixth best player in the state of New York.
One of the other highly-touted newcomers on this year's team is freshman Ronaldo "Rondo" Segu. A native of Orlando, FL, Segu won a 3A State Title his senior season with Orlando Christian Prep, scoring 11 points in the title game. Segu played his prep ball with current North Carolina freshman Nassir Little, who many have pegged as a possible #1 overall NBA draft pick next season.
Segu was listed as the 44th best point guard in the nation by Rivals.com this past season. He is a social media star, that has over 108,000 followers on Instagram.
Sophomore transfer Tra'Von Fagan is UB's first player from the state of Iowa as he comes to the Bulls by way of Florida Southwestern State College. Fagan averaged 9.5 points and 7.7 rebounds in his freshman season of junior college, helping them to a 30-3 record. Fagan was named to the All-Tournament team at the NJCAA National Tournament.
The Waterloo, IA native played at Cedar Falls High School where he averaged 19.0 points and 8.8 rebounds per game as a senior, earning first-team All-State honors.
The Bulls return a pair of walk ons from last years team, while adding three more to the squad. Returning for their second season are sophomores Colby Moultrie and Dominic Johnson. Johnson, a backup quarterback on the football team, will join the team at the conclusion of the football season. Buffalo has also added three additional walk ons, who are all redshirting this season in Daemen transfer Giambattista Davis, SUNY Cortland product Patrick Moore and Atlanta, Ga native Jamon Bivens, who will miss the year due to a knee injury.
---