STAFF REPORTS
news@allwnynews.com
---
NIAGARA UNIV. — Niagara women's basketball head coach Jada Pierce has announced the signing of Emerald Ekpiteta from the City of London Academy in London.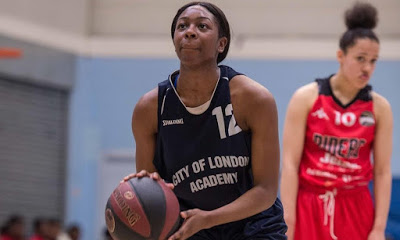 "We are thrilled to add Emerald to our family," said Pierce. "She brings a lot of intangibles that cannot be taught. Her athleticism and rebounding ability are what stood out to us when we first saw Emerald. She has a very high ceiling and we are beyond excited to help her reach her full potential. Other attributes we look for like academics, community and family are all areas that make Emerald fit in very well with our program."
Ekpiteta played for the City of London Academy, part of the Women's Elite Academy Basketball League (WEABL), which is the highest level of school competition in England and boasts some of the United Kingdom's top under-19 women's basketball programs.
Ekpiteta, a 5-foot-11 forward, averaged 14.9 points per game, 8.7 rebounds per game and 1.6 steals per game during the 2016-17 season en route to a WEABL National Championship.
In the 2015-16 season, the WEABL's inaugural season, Ekpiteta was fifth in the league in steals (2.8 per game), ninth in assists (2.1 per game) and tenth in scoring (8.2 points per game).
Ekpiteta also played club basketball for the Southwark Pride in London, which is part of the United Kingdom Women's National Basketball League (WNBL). The team was 2016-17 Division I Women's National Cup winners and the 2015-16 Division II WNBL champions. In 2015-16, Ekpiteta led the team in the championship game with 21 points and 10 rebounds en route to being named the WNBL Division II Finals MVP.
Ekpiteta will enroll at Niagara University in fall 2017 and plans to pursue a degree in criminal justice.
---