Women's Spiritual Renewal Retreat @ Fellowships of the Spirit
September 22 @ 7:00 pm

-

September 24 @ 4:00 pm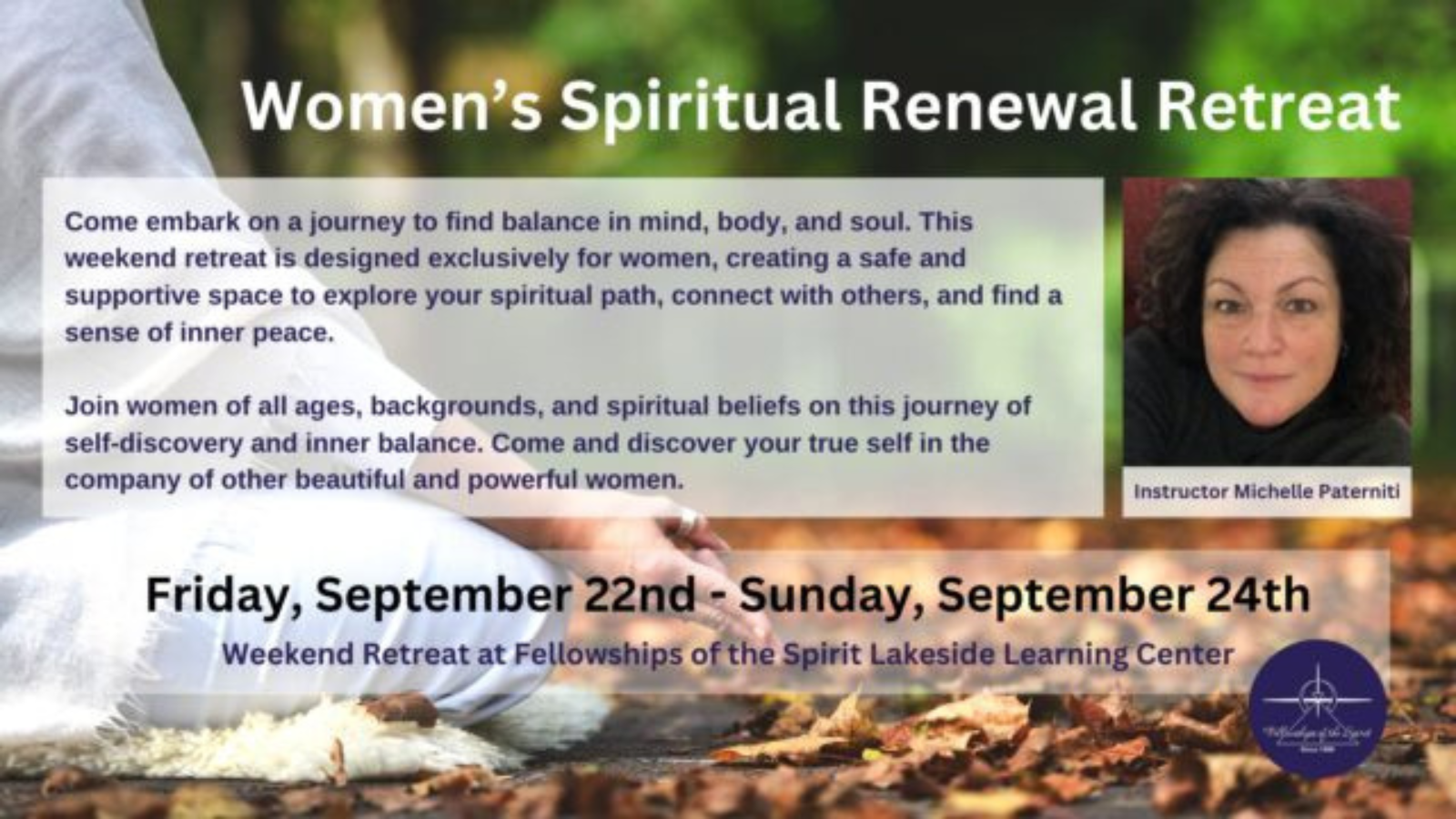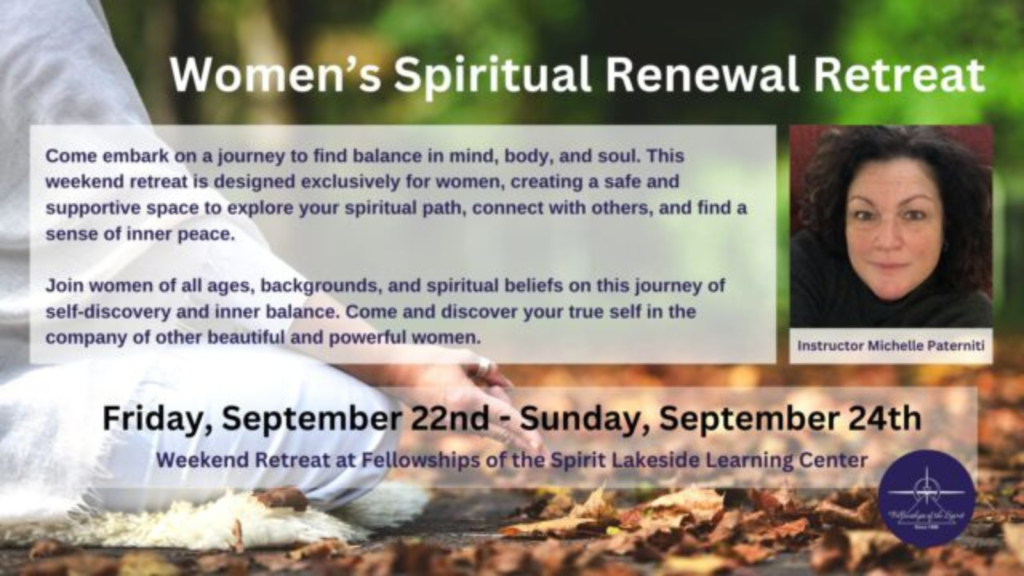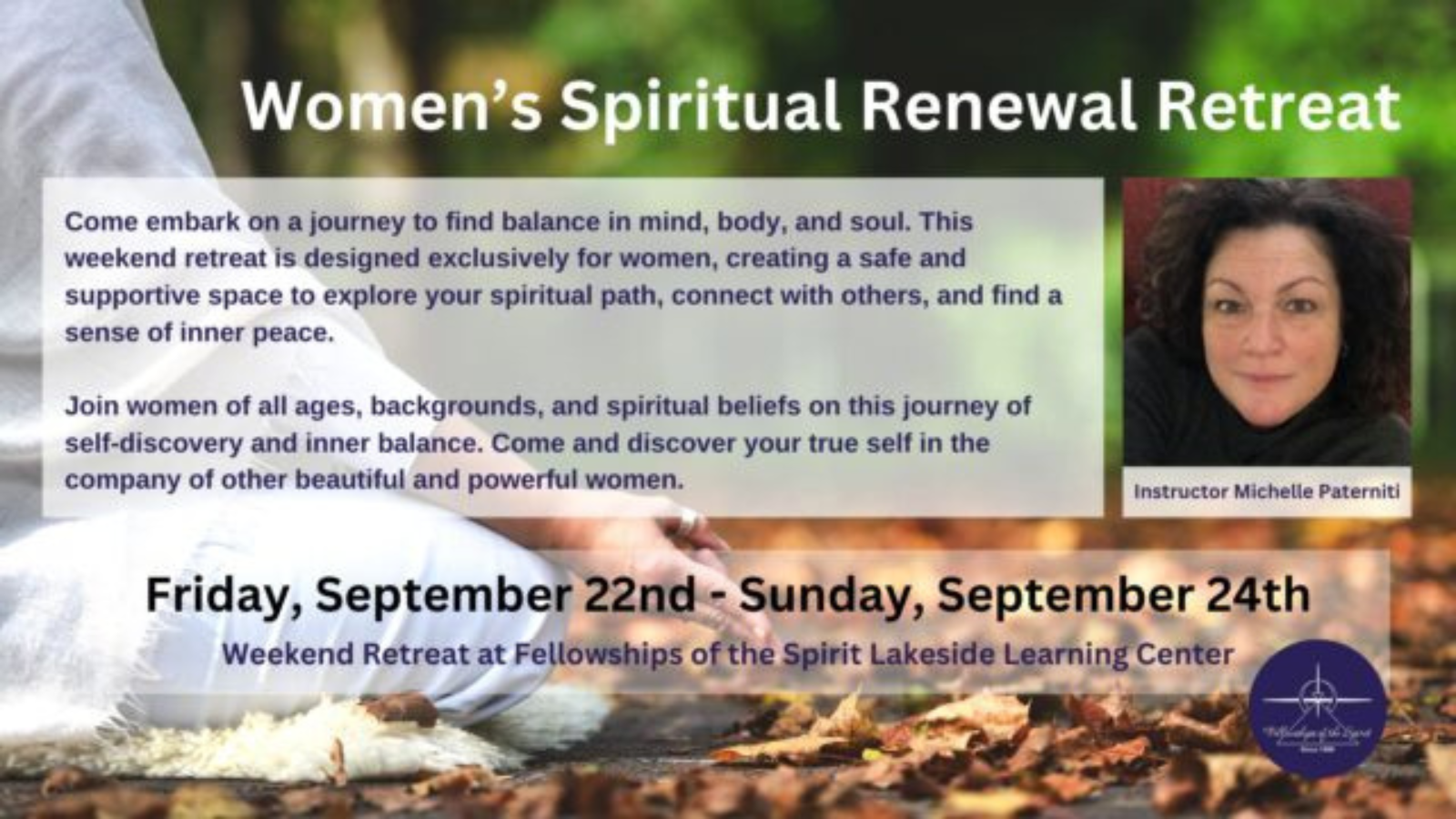 Join Rev. Michelle Paterniti for a weekend Women's Spiritual Renewal Retreat.
Come embark on a journey to find balance in mind, body, and soul. This weekend retreat is designed exclusively for women, creating a safe and supportive space to explore your spiritual path, connect with others, and find a sense of inner peace.
Located in a peaceful and serene environment, you can stroll through nature, read a book, or simply relax and enjoy the peaceful surroundings. Experience a variety of activities that focus on different aspects of your journey toward balance. Facilitator, Rev. Michelle Paterniti, will guide you through meditation, journaling, energy healing, styling tips, and more.
Join women of all ages, backgrounds, and spiritual beliefs on this journey of self-discovery and inner balance. Come and discover your true self in the company of other beautiful and powerful women.
Dates/Times
Friday, September 22nd – Sunday, September 24th, 2023
Friday: 7:00pm to 9:00pm
Saturday: 9:30am to 9:00pm
(Lunch at 12:00pm; Dinner at 4:00pm)
Sunday: 9:30am to 4:00pm
(Lunch at 12:00pm)
Tuition
$545 before 9/13
$600 after 9/13
Meals included in tuition Saturday lunch and dinner.
Location
In-Person Only:
Fellowships of the Spirit Lakeside Learning Center
282 Dale Drive
Cassadaga, NY 14718
About the Instructor
Rev. Michelle Paterniti is a gifted medium, spiritual teacher, and healer who has dedicated her life to helping others connect with their spiritual selves. From a young age she demonstrated the ability to communicate with spirits and connect with the divine realm. Michelle has continued to develop her abilities and is now an ordained Spiritualist minister with Fellowships of the Spirit with a mission to help others find a deeper sense of purpose.
Related Events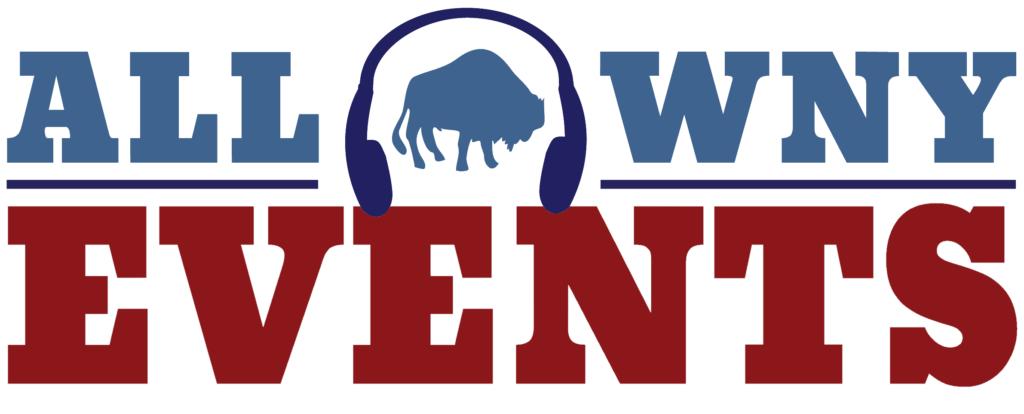 We live in crazy times. While All WNY aims to provide you an up-to-date listing of local events, we highly suggest you double-check with the venue before heading out. Things can change in an instant.
If you have an event you'd like to add to our calendar, email the event information to events@allwny.com.
If you spot any errors, please let us know so we can fix it ASAP.