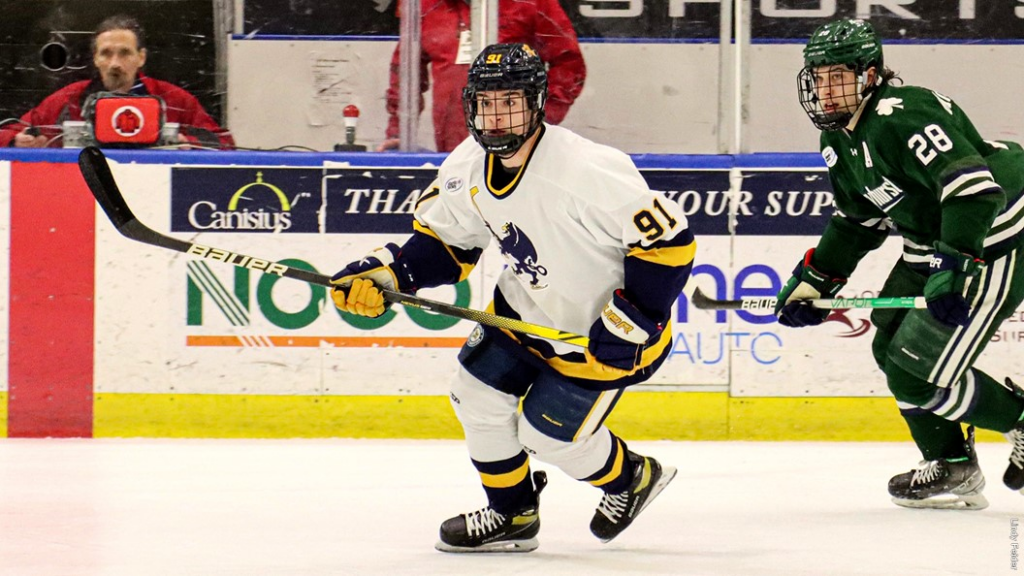 Kyle McClellan stopped all 32 shots he faced to pace Mercyhurst in a 3-0 victory over Canisius tin Atlantic Hockey Association action Friday at LECOM Harborcenter.
 
Jonahtan Bendorf, Cade Townend and Geoff Kitt scored for the Lakers (11-18-4, 9-12-4 AHA).
 
Junior Jacob Barczewki finished with 27 saves in goal for the Golden Griffins (16-13-3, 13-10-2 AHA), who saw their three-game winning snapped with Friday's setback.  
 
Following a scoreless first, Bendorf gave Mercyhurst a 1-0 lead at the 11:44 mark of the second period, tapping home Dusty Geregach's backdoor feed into the Canisius goal for his fifth goal of the season.
 
Townend doubled the Lakers advantage to 2-0 with a power-play goal at the 9:35 mark of the third, beating Barczewski with a wrist shot over the glove from the middle of the slot for his seventh goal of the campaign.
 
Canisius' best chance to get on the board came less than two minutes into the third when junior Daniel DiGrande ripped a one-timer from the left face-off circle that rang off the left post and stayed out.
 
Kitt closed out the scoring with an empty-net tally with just over a minute remaining to determine the final margin.
 
Head Coach Trevor Large's Postgame Comments
"The better team won. Mercyhurst was really good tonight. It was a good hockey game. A little bit of a chess match maybe at times. System verse system. It was kind of a first error was going to lead to the first goal and we made an error on a forecheck and didn't have our sticks in good positions and they ended up getting a goal out of it and then they get a quick one on the powerplay. But we need to be better. We will be better. I'm excited to see how we respond tomorrow. But tonight, the better team won.
 
"(Kyle) McClellan's playing well. He's been an AHA Goalie of the Week in multiple weeks lately. So obviously, he's found something in his game. He's playing very well. He's a hot goalie and whenever you're playing against any good goalie, which there are lots of them in our league, you have to be in front of them. There were points of the game where we had guys in front and weren't able to get it there and then we got some shots on net and he could see it completely. Against any good goalie in our conference, it's about the number of shots on net. Which need to go up and it's also putting more stress on him by having screens, tips and second-chance opportunities. That'll be our focus for tomorrow.
 
"Very quickly in these games, maybe you're disappointed or upset after a game you wanted to play better in and work for a better result. But then you quickly think about people. I'm not going to list all 10 of our seniors and graduate students right now. But all of their stories are different. All of their times at Canisius and how they got here are all different. They're all amazing guys. They've all have had great moments, both on and off the ice. All 10 of them. I think about guys like Matt Ladd, who's been out almost all year with an injury and I think about his first game at home against North Dakota where we're swept them and he made 48 saves. That seems like it was a forever ago. But all of a sudden, it's his senior night. And he's just one of many. So, they all took a journey to get here. We're super proud of all of them. We love them all and we're excited to see how we're all going to play tomorrow and in the playoffs."
 
Game Notes
• Friday's game served as the 101st meeting between the longtime rivals. The teams are now tied, 35-35-10 in their 80 Division-I era matchups.
• Canisius out-shot Mercyhurst, 32-30, in the contest, highlighted by a 13-7 edge in the third period.
• Mercyhurst was 1-for-4 on the power play while Canisius was 0-for-2 with the man advantage.
• Canisius was shutout for just the second time this season (Jan. 8 at Army) as it moved to 2-12-1 when held to two goals or fewer.
 
Up Next
The teams complete their home-and-home series Saturday with a 7 p.m. contest at the Mercyhurst Ice Center in Erie, Pa.
 
For complete coverage of the Canisius hockey team, please follow the Griffs on social media at @GriffsHockey on Twitter and Instagram.
---