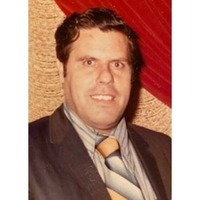 Frank Sbrocchi, of Wheatfield, NY, passed away at his residence on January 1, 2022. Born in Roseto Valfortore, Puglia, Italy, he was the son of the late Antonio and Anna (D'Avanzo) Sbrocchi.
Frank came to America at the age of 13 with his mother reuniting with his father who came years earlier. His brother Nick and sister Rosina followed. After 25 years, Frank returned to Italy for a 2-week vacation only to return after 8 months with the love of his life and bride Emma (Verrilli) Sbrocchi, whom he married in 1964 in Pompeii, Italy. Frank loved and celebrated both his Italian roots and American culture. When President John Kennedy came to Niagara Falls in 1962, he rode in Frank's Cadillac convertible, always a fond memory for Frank.
Frank and his brother Nick operated Frank and Nick Cleaners in downtown Niagara Falls, being the first local cleaners to operate one-hour service. Later working as a Master Tailor for Harry's Clothing in Amherst, his clients included many Buffalo Bills players.
Frank enjoyed exercising with his wife at the gym daily, watching cooking shows, baseball and was an avid NY Yankees fan. For years he enjoyed having coffee with friends and spending time with friends in the City Market area. Frank enjoyed taking children and other members of the family on car rides for ice cream. He was a devout Catholic, watching mass daily on TV. Above all, he enjoyed spending time with his family.
In addition to his wife of 57 years, Frank is survived by his son, Anthony Sbrocchi; his Sister-in-Law: Maria (late Angelo) Scinto; his special nieces, Joanna Romano, Rosanna Macri, and Tina Lysiak whom he loved and cherished as daughters; his nieces and nephews, Antonietta Romano, Tony Sbrocchi, and Lucy Sbrocchi, as well as by numerous other family members in Italy, Canada and the USA. Frank was predeceased by his siblings, Antonietta DeCesare, Nicoletta Monaco, Rosina DeCesare, and Nick (late Phyllis) Sbrocchi, and his nieces, Phyllis Fasciano and Tina Sbrocchi.
A special thank you to niece Joanna Romano and close family friend Dr. Joseph Marra for their caring professional guidance and family support during Frank's recent illness.
Visitation will be held on Saturday, January 8 from 9 – 11:15 AM at M.J. COLUCCI & SON NIAGARA FUNERAL CHAPEL, 2730 MILITARY ROAD, NIAGARA FALLS, NY 14304, where funeral services will begin at 11:15 AM followed by Frank's Mass of Christian Burial at 12 Noon at Holy Family Parish at St. Joseph Church, 1413 Pine Avenue, Niagara Falls, NY 14301. Entombment in St. Joseph Cemetery, Niagara Falls, NY. Visit mjcoluccifuneralchapel.com for online condolences.
---

All WNY is made possible thanks to coffee and sleep deprivation.
Buy us a cup? (of coffee, we can handle the sleep deprivation ourselves)