NIAGARA UNIVERSITY ATHLETICS
---



MOON TOWNSHIP, Pa. – After dropping their first game of the season two nights ago, the Purple Eagles bounced back with a shutout win against the Robert Morris Colonials on Saturday afternoon.

SYNOPSIS
The dynamic duo of Kelsey Araujo and Annie Ibey each scored a goal in the same game for the second time in three games this season. Araujo, who created several chances in the first half, was rewarded with a goal in the 37th minute. She then assisted on Ibey's third goal of the season in the 54th minute to seal the victory.

MOMENTS
12′ – Kelsey Araujo's header from close range was saved.
18′ – Araujo close range shot save after through ball from Mackenzie Mix.
22′ – Sabrina Locas made a saved off a RMU corner.

28′ – Araujo shot inside the box misses far post.

37′ (GOAL) – Araujo finally scored after all the pressure. Veda Hensel played a long ball from midfield to Araujo who collected the ball in the box and her shot beat the keeper for the game's opening goal.

41′ – Ibey shot at the top of the box narrowly misses.

52′ – Ibey had another effort on goal saved

54′ (GOAL) – Lauren Testa stole the ball at midfield and played Araujo down the right side. Her cross into the box was volleyed home by Ibey.

66′ – Ashley LoFranco' long range effort forced a save.

71′ – Florence Vaillancourt rounded the keeper in the box but misses the net.

EAGLE'S EYE ON…
Kelsey Araujo had a game-high three points and eight shots.
Annie Ibey has scored a goal in five of the last six games, including in all three games this season.
Sabrina Locas made five saves en route to her first shutout of the season.

INSIDE THE NUMBERS
Niagara improved to 18-4-1 all-time against Robert Morris.

The Purple Eagles outshot the Colonials, 18-10.

UP NEXT
The Purple Eagles wrap up their three-game road trip against Saint Francis (PA) on Thursday, September 5 at 3 p.m.
spx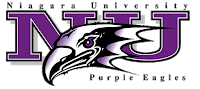 ---