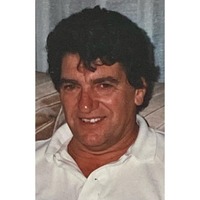 Ronald A. Perri, 87, of Niagara Falls, NY, passed away on February 10, 2021 peacefully at home with family. Born and raised in Niagara Falls, NY, he was the eldest son of the late Ralph and Anna (Nicora) Perri and is survived by his younger brother Ralph Tony Perri. Some would say he never had a bad thing to say about anyone, as long as you weren't standing in front of the television during a Yankees game. He left an everlasting impression on many of us, as a brother, husband, father, grandfather and friend, and his energy and smile will be missed.
Ron proudly served in the United States Navy in the 1950's where he met his future wife and love of his life, a fellow Naval servicemember, Nan Lucille (Tracy) Perri. They married on December 10, 1955, at the Chapel of the Immaculate Conception at the Naval Air Station in Norfolk, VA. She fell in love with his classic charm, unwavering wit, carefree flattery, and gregarious nature. It wasn't just the light eyes she fell in love with, it was his larger-than-life personality that captivated her heart. After his honorable discharge, they returned to Niagara Falls in 1956 determined to build a family. They cherished their six children together until Mrs. Perri predeceased him on May 2, 2001, after 45 years of marriage.
Ron was a natural go-getter, the ultimate fan and life of the party. He was an avid sportsman, a proud firefighter, a natural craftsman, and a proud citizen of Niagara Falls. He worked at the Niagara Falls Fire House for 20 years, retiring in 1985. Ron was also an exceptional plasterer, known for finishing ceilings in many places across his hometown. Ron championed the art of athleticism in his own right and within his own family, passing the talent and passion onto his children and grandchildren. Ron was the ideal Italian grandfather and taught his 11 grandchildren about the many joys of life. He savored every moment, and especially the moments as a grandfather and great-grandfather.
Ron is survived by his loving children, Tracy (Philip) Mevs, Ronald V. Perri, Mike J. Perri, and Ralph (Rachel) Perri; his grandchildren, Christina Mevs, Alexander Mevs, Andrew Perri, Anastasia Perri, Mark Perri, Michael Perri, Jr., Stephanie Pascucci, David Pascucci, Matthew (Catherine) Perri, and Marcelina (Gabe) Tumey; three great-grandchildren, Giovanna Perri, Lucianna Perri and Addelyn Pascucci; his brother, Ralph Perri, his cousin, Barbara Cacciatore, as well as several nieces and nephews. In addition to his wife, he was predeceased by his late son, Anthony Perri. His loving daughter Emily Pascucci, who cared for him, passed away shortly following his passing.
A Memorial Service will be held at a future date. Interment with Military Honors will be held in St. Joseph Cemetery, Niagara Falls, NY. In lieu of flowers, memorial offerings may be made to the Niagara Falls Firefighters Christmas Toy Fund, P.O. Box 271, Niagara Falls, NY 14304, [or to model the joy Ron was so generous in spreading, lift someone special in your life up and let them know they are loved]. Arrangements by M.J. COLUCCI & SON NIAGARA FUNERAL CHAPEL. Visit mjcoluccifuneralchapel.com for online condolences.