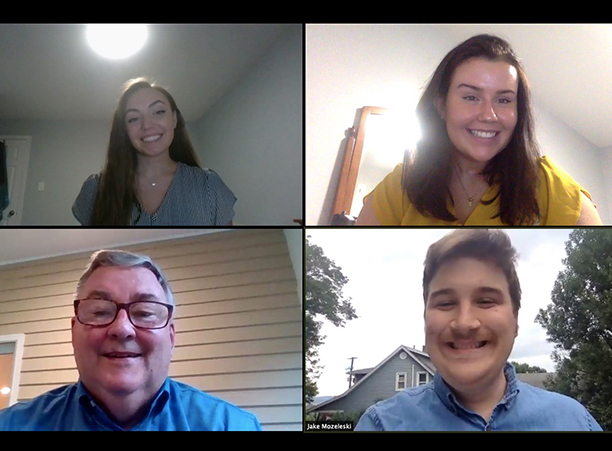 WORCESTER, Mass. — Caroline Fredericks of Orchard Park, a history major and philosophy minor on the prelaw track at Holy Cross, has been awarded in multiple categories of the International Academy of Dispute Resolution (INADR) Vilnius, a prestigious international mediation tournament featuring participants from law schools around the world.
The international law school tournament, which was to be held in Vilnius, Lithuania, until the international pandemic necessitated a move to an online format, featured participants from law schools around the world as well as only two U.S. undergraduate institutions-Holy Cross and Boston University.
Following three grueling days of preliminary competition that included 24 mediation sessions, the Holy Cross team comprised of Caroline Fredericks '21, Caitlin Marple '21 and Jake Mozeleski '22 finished in the top 4 out of 16 total teams in both the best Advocate/Client group category and best Mediator category and was invited to participate in the INADR finals.
Holy Cross would go on to win first place as a team in the Mediator category and placed fourth in the Advocate/Client pair category. In addition to these prestigious team awards, Holy Cross students Caitlin Marple '21 and Jake Mozeleski '22 received first place individual awards in the Advocate/Client category, with Marple also receiving a third place individual award in the Mediator Category.
"Though competing as one of the only undergraduate teams in a law school tournament was at first intimidating, my teammates and I felt confident that our time at Holy Cross had prepared us well," says Fredericks. "From my own experience, I know that courses like Legal Reasoning & Rhetoric and countless classes in my history major improved my ability to craft cogent arguments and communicate clearly- skills that were necessary in this competition."
Fredericks and her teammates credit coach Edward McDermott '79, as well as Holy Cross administrators and leadership, with enabling their success.
"Our performance was not only a testament to our Holy Cross education but also the commitment of our faculty and coaches during this time of distance learning," explains Fredericks. "Our coach, Ed McDermott, spent countless hours preparing us and zooming with us every night during the tournament, and we simply could not have been as successful without him."
McDermott, who has coached at Holy Cross for 21 years, notes, "This is quite an accomplishment for these three special HC Crusaders, and I could not be more proud of how our students prepared for this academic competition."
About Holy Cross
The College of the Holy Cross, in Worcester, Mass., is among the nation's leading liberal arts institutions. A highly selective, four-year, exclusively undergraduate college of 3,100 students, Holy Cross is renowned for offering a rigorous, personalized education in the Jesuit, Catholic tradition. Since its founding in 1843, Holy Cross has made a positive impact in society by graduating students who distinguish themselves as thoughtful leaders in business, professional and civic life.
---