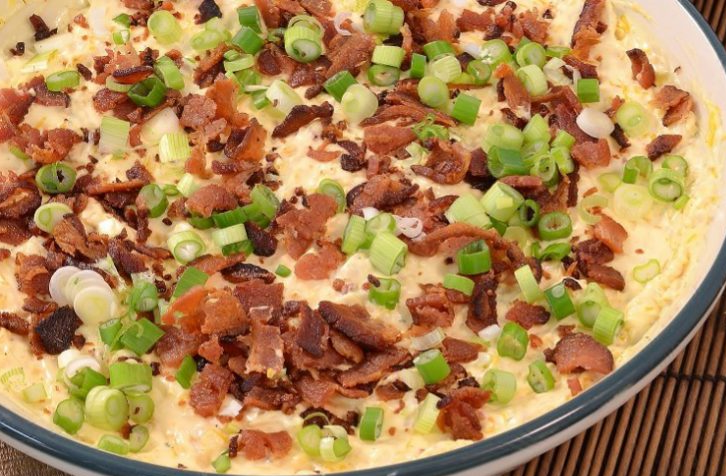 Football food, tail gating treats, and just overall snacking foods for a good time. I love the unusual assortment of football food that we see during football season. This weeks article will feature a couple of different items you can make, instead of just doing your normal wings or hamburger sliders, or pulled pork. So take a gander and try something different.
Cheddar bacon dip:
1 8oz pkg cream cheese, softened
1 8oz cup sour cream
5 green onions, thinly sliced
4 meduim tomatoes, chopped
1 large green pepper, chopped
1 jar 16oz taco sauce
2 cups shredded cheddar cheese
1# bacon cooked and crumbled
Tortilla chips
In a mixing bowl, beat cream cheese, and sour cream. Spread in an ungreased 9×13 pan. Combine onions, tomatoes, and green pepper sprinkle over cream cheese mixture. Pour taco sauce over the vegetables. Sprinkle with cheddar cheese. Refrigerate. Just before serving sprinkle with bacon. Serve with tortilla chips. * You can serve this warm if you want, put into a preheated 350 oven and bake for 15 minutes.
Hot and creamy corn chip dip:
1# hot sausage
1# lean ground beef
1 can 10-3/4 oz cream of mushroom soup, undiluted
1 can 10-3/4 oz cream of celery soup, undiluted
1# velvetta cheese
1 1/2 cup meduim salsa
Brown sausage and ground beef, until no longer pink and drain. Add soups, cheese, and salsa cook over medium heat until cheese melts, stirring frequently. Serve with corn chips. This can be made ahead of time and serve warm in a crock pot.
Pinwheels
These are great to make and take to any function. The options are limitless and they can add a lot of beauty to your buffet table. I love the different flavors now available, and I have to say my favorite to use because of the color is the spinach wraps. Here is one of my favorite recipes I do.
8 oz cream cheese softened
1 cup shredded pepper jack cheese
2 t garlic powder
1/2 t salt
1/4 t ground black pepper
3 each green onions, sliced thin
2 cups chopped cooked chicken
1 whole red pepper diced
Put cream cheese in bowl first, and stir until soft, and then slowly add rest of ingredients, mixing until all incorporated.
Next heat up your tortillas, until soft and pliable, I like to put mine on the grill because I like the flavor it adds plus the grill marks. Let tortillas cool, and then spread filling on tortilla and roll up. Put them in fridge to let them chill and set up some, for about 30 minutes. Remove and slice them, you can put a toothpick into each pinwheel if you like, and arrange them on a tray for service.
Try some of these and tell me what you think. For my opening football Sunday this week I don't even know what i am serving yet but I am leaning towards the corn dip with that ground pork and beef, and of course in my house, I know they don't go together but we always have homemade chocolate chip cookies, yummy.
What is your favorite? The most important thing is to have a good time and enjoy the time with your friends and family. Lets go Buffalo.

Natilie Cavnar is a cooking fanatic who loves to try new recipes, and create some of her own, ask her what you want at thenormalchef@gmail.com.
---