PRESS RELEASE
---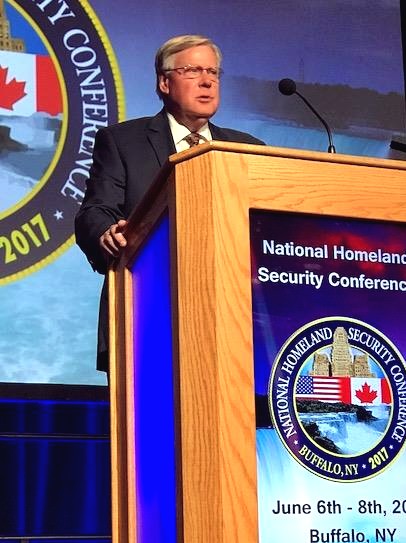 BUFFALO — The Niagara County Legislature's top public safety official welcomed hundreds of first responders from around the nation to Buffalo Tuesday, delivering opening remarks at the National Homeland Security Conference.
"These are extraordinary times for our country," Legislator Dave Godfrey, R-Wilson, said during a brief welcome address to attendees. "We are repeatedly confronted with historic crises including suicide bombers, shooters, and cyber-attacks more sophisticated than ever experienced in the past."
Emphasizing concerns felt by Niagara County officials since 9/11, Godfrey went on to note, "These devastating attacks are not limited to our large cities. They have hit our small towns, the heartland of our country."
The conference, organized annually by the National Homeland Security Association, has brought hundreds of first responders, homeland security professionals, emergency managers, and public safety planners and officials from around the nation to Buffalo.
Items on the conference's agenda include study sessions on the Dallas police ambush, the Pulse Night Club shooting, and the Boston Marathon bombing, as well as recognizing and responding to homemade explosives, intelligence and information sharing, port and transit security, managing public health emergencies, and managing cross-border incidents, among dozens of others.
Presenters include high-level officials from the Department of Justice, the Department of Homeland Security, and the Federal Emergency Management Agency, as well as a former CIA agent still active in the counterterrorism field.
"I want to commend the conference attendees, the first responders, the planners, for their commitment to 'protect and serve,' knowing their responsibilities are intensified at a time when an extremist ideology threatens our people and technology gives a handful of terrorists the potential to do us great harm," Godfrey said.
Godfrey is joined at the conference by Sheriff James R. Voutour and Director of Emergency Services Jonathan Schultz.
---