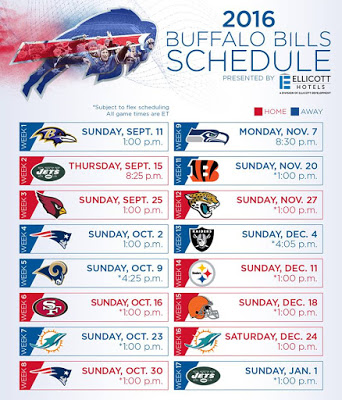 BUFFALO — The Buffalo Bills will open their regular season on the road against the Baltimore Ravens on Sept. 11.
The team's official 2016 schedule was released today by the National Football League.
The Bills will play the New York Jets at Ralph Wilson Stadium Thursday, Sept. 15. They will also host a Saturday afternoon game against the Miami Dolphins on Christmas Eve, and play the Seattle Seahawks in Seattle for a Monday night game on Nov. 7.
The Bills will also host the Arizona Cardinals, San Francisco 49ers, New England Patriots, Jacksonville Jaguars, Pittsburgh Steelers, and Cleveland Browns. Road games include the Patriots, St. Louis Rams, Dolphins, Oakland Raiders, and Jets.
The Bills bye week will come during the NFL's week 10, Nov. 13.
---